Print Friendly Version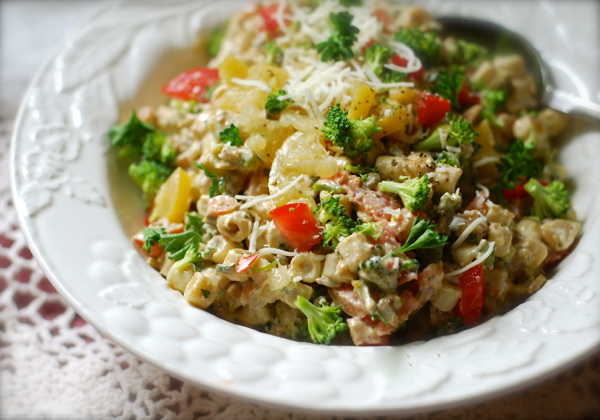 The weather is being fickle here in the Mississippi river valley! I'm pretty sure this is true for most of Minnesota as well. For a few days it will be calm, sunny and a balmy 65 degrees…. and then we'll get cold, rain, and even snow flurries! Come on Spring, get it together.
Anyhoo, I've been creating warm weather-inspired recipes and menus in spite of the wishy washy weather. Pasta salads seem to be the order of the day around here. It's so good with grilled anything, or by itself as a quick, easy lunch. This one is fully loaded with lots of veggies. Omit or add ingredients as you see fit. The beauty of this salad is it's versatility.
Note*** If you don't have access to preserved lemons, you can either make your own, or use a little lemon zest instead. This time I used Trader Joe's brand preserved lemons.
1/2 lb. Ditalini noodles (or other short pasta)
4 cups small, fresh broccoli florets
3 Roma tomatoes, seeds removed and diced
1/2 cup fully cooked, chickpeas (if using canned, drain very well)
1 cup sunflower seed kernels
1 cup finely chopped carrots
1 cup green onion, sliced thin (including green tops)
6 preserved lemon slices***, chopped fine + 2 Tablespoons of the juice from the jar
1/2 cup finely chopped Italian parsley + more for garnish
1/2 cup freshly grated Parmesan cheese
3 to 6 pieces pancetta or bacon, cooked until crispy and crumbled (garnish)
1 to 4 Tablespoons capers (garnish)
a drizzle of black truffle oil, to taste (optional)
Tuscan Sun Dressing (recipe below)
 salt and freshly ground black pepper, to taste
Cook noodles according to package directions for al dente pasta. Once cooked completely, drain well and rinse under cold water. Drain very well. Transfer to a big bowl and allow to cool completely before adding the other ingredients.
Once pasta is completely cooled, add: broccoli, tomatoes, chickpeas, sunflower seeds, carrot, onion, preserved lemon + juice, parsley, and Parmesan cheese. Mix well. Add dressing. Mix well. Garnish with a little sprinkle of finely chopped parsley, a few chunks of the preserved lemon, pancetta/bacon, capers, and a light drizzle of truffle oil (use sparingly so it doesn't overpower the salad.)
Under the Tuscan Sun Salad Dressing:
1/4 cup regular or grainy Dijon mustard
2 Tablespoons fresh or jarred basil pesto
1/4 cup mayonnaise
1/2 cup extra virgin olive oil
1 Tablespoon dry white wine
3 Tablespoons sugar or honey
2 Tablespoons dry Italian seasoning
1 Tablespoon of your favorite hot sauce (optional)
2 to 3 large fresh garlic cloves, minced
1 teaspoon red pepper flakes
Whisk all ingredients together in a medium mixing bowl until well combined. Pour over pasta salad and mix in well. This is also lovely on green salads.
Enjoy!
~Melissa
You may enjoy these related posts: