Print Friendly Version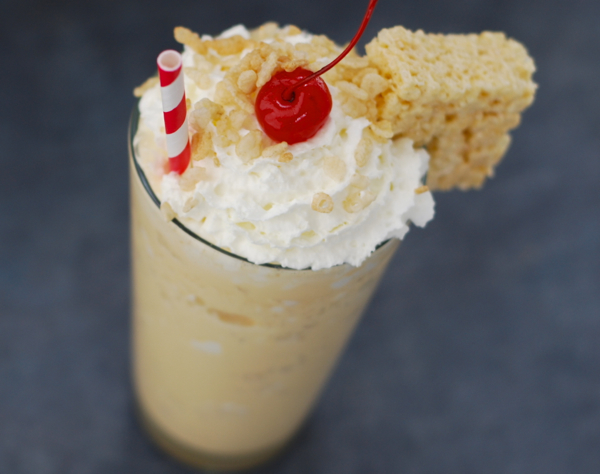 The first time I enjoyed one of these awesome Marshmallow Rice Krispie Treat Shakes we were on vacation in California. We went through the drive through of a Jack in the Box, fast food, hamburger place and I spotted this little gem on the menu. We've been back since, and they no longer offer it, but I made one that tastes exactly like it! Lucky for you (and me!) Sooooooo yummy!
for one big shake:
2 heaping cups premium vanilla ice cream
3 to 4 Tablespoons whole milk
3 to 4 Tablespoons Marshmallow Fluff
1/4 cup Rice Krispies cereal
sweetened whipped cream (I used Redi Whip)
1 maraschino cherry
small Rice Krispie Treat for garnish (my addition)
Place ice cream, milk and Marshmallow Fluff in blender. Blend until smooth. Stir in Rice Krispies cereal and transfer to a tall glass. Top with some whipped cream and maraschino cherry. Sprinkle a few more Rice Krispies over top and garnish edge of glass with a small Rice Krispie Treat (if you wish.)
Enjoy!
~Melissa
You may enjoy these related posts: