Print Friendly Version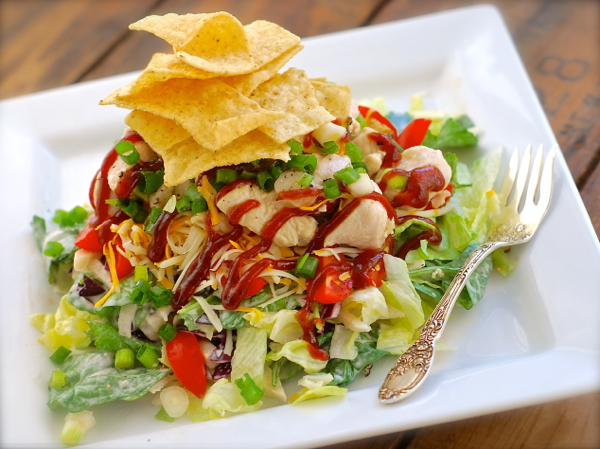 We've enjoyed the awesome Wiqui Waqui Salad at both the California and Hawaii Island Restaurant locations. It's so delicious, and I must admit, a bit addictive. Good thing it's healthy! Annnnndddd, since we don't have an Island Restaurant in Minnesota, it's a good thing I came up with the "copycat" recipe so I can make it at home. Jeff and Grace go bonkers over this salad. I hope you love it as much as we do!
If you like this recipe, I highly recommend another Island Restaurant (copycat) recipe that I developed for their Beach Bowl! SO delicious!
for one Wiqui Waqui Salad:
2 cups mixed greens (I used a combination of spring greens and shredded iceberg)
1/3 cup jicama, cut julienne style (like thin matchsticks)
1/4 cup shredded purple cabbage
1/4 cup (or more) of your favorite ranch dressing
2 Tablespoons finely chopped red onion
1/3 cup (or more) shredded cheddar jack cheese
6 grape tomatoes, halved or quartered
1 (6 oz.) grilled boneless, skinless chicken breast, cut into bite size pieces
a generous drizzle of your favorite, sweet smoky BBQ sauce
salt and pepper, to taste
2 scallions, sliced (including green tops)
 a handful of tortilla strips
Toss greens, jicama, and cabbage with the ranch dressing and place it on a dinner plate so it creates a "bed" of greens for the rest of the salad. Sprinkle the red onion over the greens. Next, add the cheddar jack cheese, tomatoes, grilled chicken chunks, BBQ sauce, salt, pepper, and scallions. Top it all off with a handful of tortilla strips. Serve.
Enjoy!
~Melissa
You may enjoy these related posts: