Print Friendly Version
"Cutting the lemon
the knife
leaves a little cathedral:
alcoves unguessed by the eye
that open acidulous glass
to the light; topazes
riding the droplets,
altars,
aromatic facades."
~Pablo Neruda

Yesterday when we got home from the pool we were in the mood for something with lemons. I had made a new batch of my Moroccan preserved lemons a couple weeks ago and decided to make lemon spaghetti with shrimp for dinner. So delicious.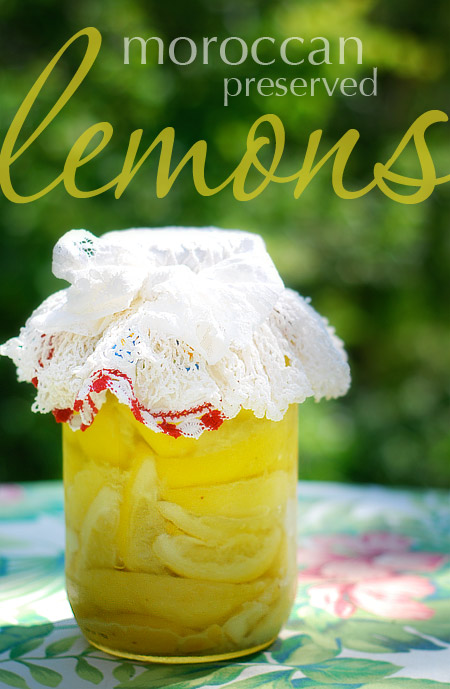 Moroccan Preserved Lemons
12 Meyer lemons
Kosher salt
lemon juice concentrate
Wash the lemons thoroughly. Hold them over a plate to catch the juice and make four deep cuts in the lemons lengthwise, evenly spaced around the lemon, effectively dividing it into four sections attached at the ends. Keep the lemons whole.  Pack the cuts generously with salt. Put a couple of tablespoons of salt in the bottom of a jar and pack the lemons in layers, sprinkling a thin layer of salt between each layer of lemons. Push the lemons down firmly to pack them tightly and to help express some of their juice. Finish with a final layer of salt. Pour any juices that collected on the plate when the lemons were cut. Cover the jar tightly. Leave at room temperature for a few days, monitoring the level of liquid in the jar. The lemons should be submerged in juice after a few days. If they are not, add some lemon juice concentrate to the jar. Top off jar with a little extra virgin olive oil. Cover tightly with lid. The lemons will be ready to eat in a few weeks and will keep for up to a year in the refrigerator.
Leisa's Lemon Spaghetti
1/2 cup extra virgin olive oil
1/2 cup unsalted butter, melted
1 cup grated Parmesan cheese
1 cup chopped, Moroccan preserved lemons plus a little juice
1/4 cup fresh basil, chopped
1 pound fresh shrimp, cooked until just pink
3 cloves fresh garlic, minced and cooked in butter until golden
1 lb. spaghetti, cooked al dente
2 green onions, chopped
salt and freshly ground pepper, to taste
Cook spaghetti according to package directions. Drain.  Combine the rest of the ingredients and toss with pasta. Serve warm or chilled.
Enjoy!
~Melissa
You may enjoy these related posts: