Print Friendly Version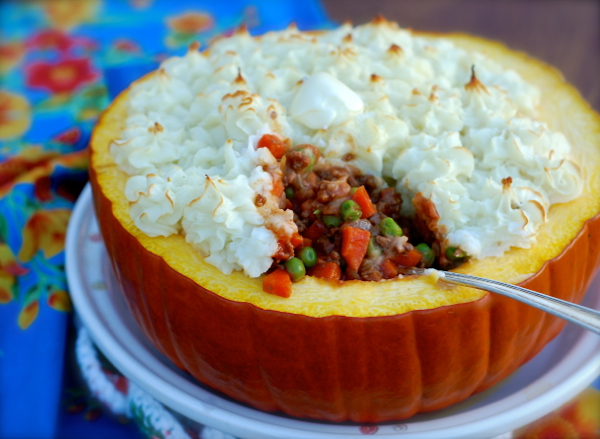 Want to make an impressive dinner that's actually very easy? Well, here you go! It's so yummy. My kind of comfort food, and sooooo adorable all tucked into a pumpkin.
If you want to be able to eat the pumpkin too, follow these instructions for baking the pumpkin prior to filling.
~ preheat oven to 400 degrees F. ~
serves 4 to 6 people
1 medium pumpkin (or 4 to 6 small ones)
4 medium-large potatoes, peeled and cut into 2 inch pieces
2 to 4 Tablespoons milk
1/4 cup butter
salt and pepper, to taste
1 and 1/2 lb. lean ground beef
2 ribs celery, chopped
1 medium onion, chopped
24 oz. frozen peas and carrots, thawed
1 packet brown gravy mix (I used McCormick)
1 cup water
2 Tablespoons Worcestershire sauce
1/4 cup tomato paste
Cut the top third (or so) off of the pumpkin and remove all the insides, and seeds. Discard.
Cover prepared potatoes with water in a medium saucepan. Boil until tender, and easily pierced with a fork. Drain and mash with milk and butter until smooth and fluffy. Salt and pepper to taste. Cover and set aside.
Brown beef, celery, and onion in a large skillet until meat is almost completely cooked. Drain if necessary. Add gravy mix, water, Worcestershire sauce, and tomato paste. Stir until well combined and thickened somewhat. Stir in peas and carrots. Transfer to the hollowed out pumpkin.
Top with the mashed potatoes, (using a pastry tube fitted with a large star tip if you want to be fancy.)
Place in a pie plate and bake in preheated oven for 40 to 45 minutes, or until potatoes are slightly golden brown on top and the stew in the pumpkin is very hot.
Serve and season to taste with additional butter, salt and pepper.
Enjoy!
~Melissa
You may enjoy these related posts: