Print Friendly Version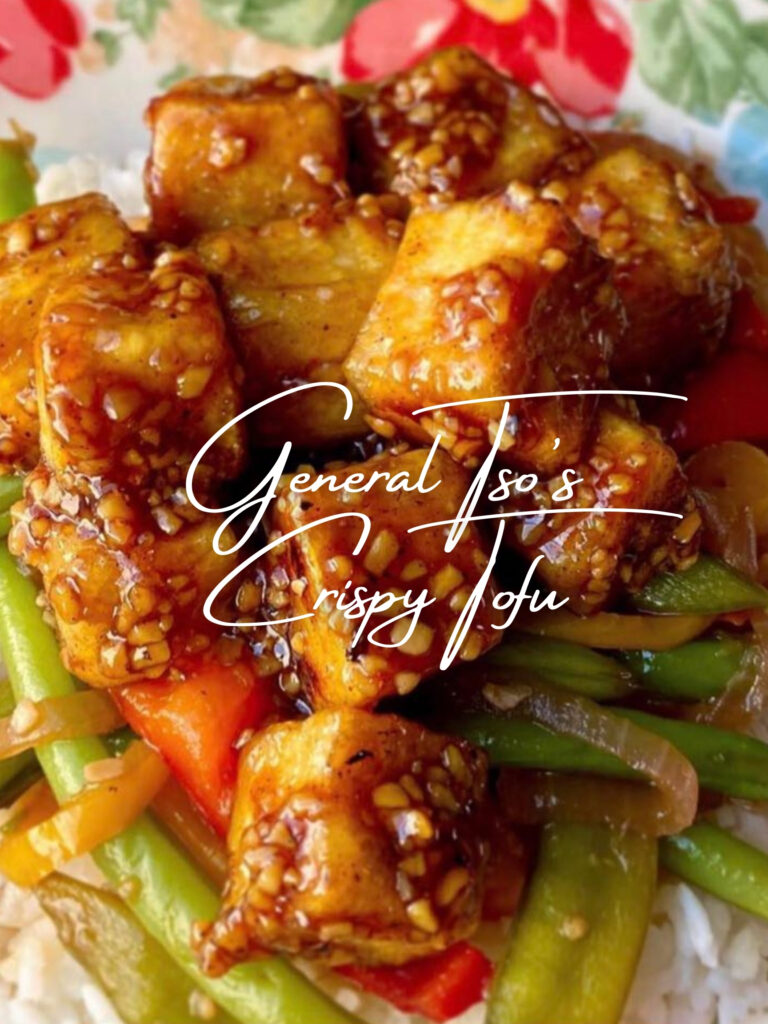 Who doesn't crave some tasty Chinese takeout from time to time? We have a couple places in town that have great options, but they don't deliver. And sometimes I just want to make these delicacies my way in my own kitchen instead of having to bundle up and make the trek to the restaurant to pick it up. It's always good to have some of your favorite "copycat" recipes in your back pocket for these occasions.
Here's an absolutely amazing recipe for General Tso's Crispy Tofu that will knock your socks off. Serve with basmati rice, chinese noodles, or rice noodles. Fry up some bell peppers, onions, and mushrooms to go with it if you wish.
This recipe for General Tso's Crispy Tofu is spicy, so cut the amount of cayenne and red pepper flakes in half if you want it to be a little more mild.
If you want more "copycat" chinese takeout recipes I have a few here to share. Just follow the links:
Crab Rangoon, Chinese Buffet Coconut Buns, Sticky Sweet Chinese Appetizer Chicken Wings, Shrimp Toast, Crispy Air Fryer Egg Rolls, Sesame Garlic Green Beans, General Tso's Chicken Lettuce Wraps, Fried Rice, Crunchy Sweet Orange Chicken, and Easy Chicken Chow Mein
Now for that tofu recipe!
~ for the tofu marinade/coating ~
16 oz. extra firm tofu, pressed and patted dry
1 T. sesame oil
1 T. pure maple syrup or agave syrup
1/4 t. cayenne pepper
4 T. cornstarch
2 T. sesame oil (for frying)
~ spices ~
1 T. finely minced/shredded, fresh ginger
2 large garlic cloves, minced
1/2 t. red chile flakes
~ for the sauce ~
2 T. rice vinegar
2 Tablespoons sesame oil
1/4 cup soy sauce or coconut aminos
2 T. hoisin sauce
1 T. onion powder
1/4 c. brown sugar or coconut sugar
2 T. cornstarch
1/2 c. vegetable stock
Put all sauce ingredients in a canning jar. Shake to mix. Set aside.
Once tofu is pressed, cut into 1 inch cubes. Place in a food container with a lid. Add the 1 Tablespoon sesame oil, maple syrup, and cayenne pepper. Seal container and turn container to coat the tofu. Add cornstarch to container. Seal and gently turn container so tofu is completely coated with the starch.
Add the 2 T. sesame oil to a nonstick frying pan. When hot, add the battered tofu. Fry over medium-high heat until golden brown on all sides. Transfer tofu to a plate. Add the ginger, garlic, and red chile flakes to the pan. Cook one minute. Add tofu back to the pan. Pour half of the sauce over and flash fry one minute to coat the tofu. Don't cook to long or the coating will begin to fall off the tofu.
Serve over chinese noodles or basmati rice. Serve with stir fried veggies, such as bell peppers, carrots, onions, broccoli, and mushrooms (optional.) Drizzle some of the remaining sauce over the top if you like it saucy.
Top with sesame seeds and chopped scallion tops, if you wish.
Enjoy!
~Melissa
You may enjoy these related posts: