Print Friendly Version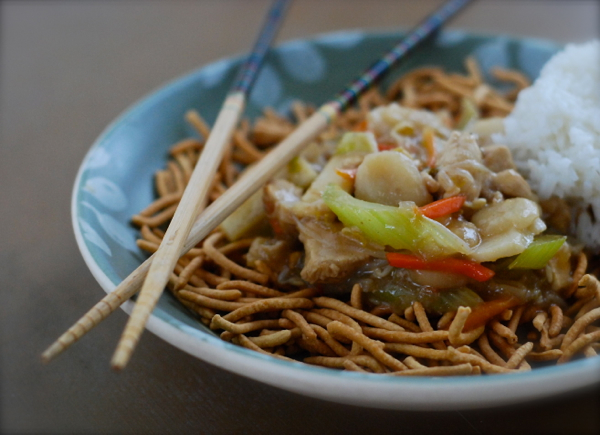 Last night while we were sleeping all snug in our beds, it snowed! Not a lot of snow, but a light dusting. All of the rooftops were sprinkled with the white stuff and our neighborhood, situated at the foot of a bluff, looked like a fairy tale. Smoke is puffing out of several chimneys and swirling against the backdrop of tree skeletons and bluffs. We have a fire burning in our fireplace as well and a pot of tea warming under a cozy on our quilt-covered table. Time to revel in the comforts of home and family.
Here's a delicious comfort food dish that is so easy to prepare. I like to get pre-cooked rotisserie chicken when making chow mein. It's a great way to expedite the process of getting dinner from kitchen to table. You could use leftover chicken for this too.
serves 5 to 6 people
2 Tablespoons peanut oil
1 Tablespoon dark sesame oil
3 long stalks of celery plus leaves, washed and sliced on the diagonal
2 large carrots, washed, peeled and sliced thin, on the diagonal
2 large cloves garlic, minced
1 teaspoon onion powder
1 cup fresh bean sprouts (or canned sprouts, drained very well)
4 to 6 oz. fresh mushrooms, washed and sliced
1 (7 oz.) can water chestnuts, drained well and sliced
2 to 3 cups cooked chicken, cut into bite-size chunks or shredded
3 Tablespoons cornstarch
1/4 cup water
10 oz. homemade chicken stock OR canned, condensed chicken broth
1/4 cup soy sauce
2 and 1/2 cups hot, cooked rice (white or brown)
3 cups crunchy chow mein noodles
Sriracha hot sauce
soy sauce and freshly ground black pepper, to taste
In a large, heavy Dutch oven or wok, saute celery and carrot in oil until crisp-tender (about 5 minutes.) Add fresh garlic and onion powder. Cook an additional minute. Add sprouts, mushrooms, water chestnuts and chicken. Turn heat to very low.
In a large bowl, mix cornstarch with water, using a wire whisk. When smooth, add chicken broth and soy sauce to bowl. Mix well, using whisk. Pour over the meat and veggies in the pot/wok. Bring to boil, stirring constantly, until sauce has thickened. Reduce heat to low. Cover and simmer gently for 10 to 15 minutes or until completely heated through.
Serve over hot, cooked rice and crunchy chow mein noodles. Season with Sriracha hot sauce, soys sauce and black pepper, to taste.
Enjoy!
~Melissa
You may enjoy these related posts: