Print Friendly Version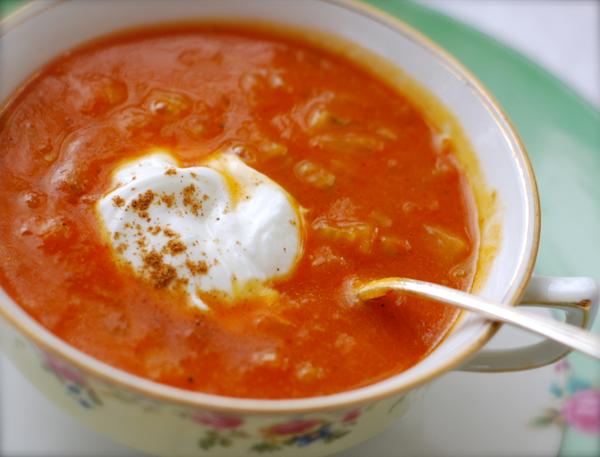 Pumpkin is so healthy, and the perfect thickener for this warming, spicy soup! I made up a big pot for a tea party I hosted recently and everyone loved it! Even people who claim to not like pumpkin. So there ya have it.
2 Tablespoons olive oil
2 Tablespoons butter
1 large onion, chopped fine
2 sticks celery (including leafy tops), chopped fine
1 large potato, unpeeled, diced
1 (15 oz.) can pure pumpkin puree (I use Libby's)
5 cups chicken stock/broth
1/4 cup sriracha hot sauce
1/4 teaspoon cayenne pepper
1 teaspoon onion powder
1 teaspoon smoked paprika
1/2 teaspoon garlic powder
1/2 teaspoon pumpkin pie spice
1/4 teaspoon dried, ground ginger
2 Tablespoons honey
salt and pepper, to taste
plain yogurt or unsweetened whipped cream
nutmeg
Heat oil and butter in a large, heavy skillet. Add onion, celery and potato and saute until tender (12 to 15 minutes.) Stir in pumpkin, stock, hot sauce, spices and honey. Bring to boil. Reduce heat and simmer until hot all the way through (approximately 10 minutes.) Ladle into bowls and top each serving with a dollop of the yogurt or whipped cream. Garnish with a sprinkle of nutmeg.
Enjoy!
~Melissa
You may enjoy these related posts: