Print Friendly Version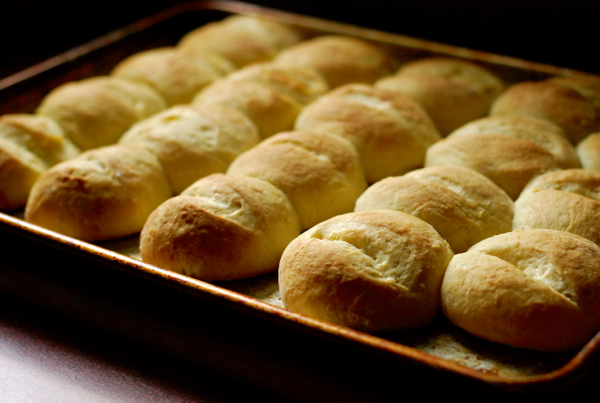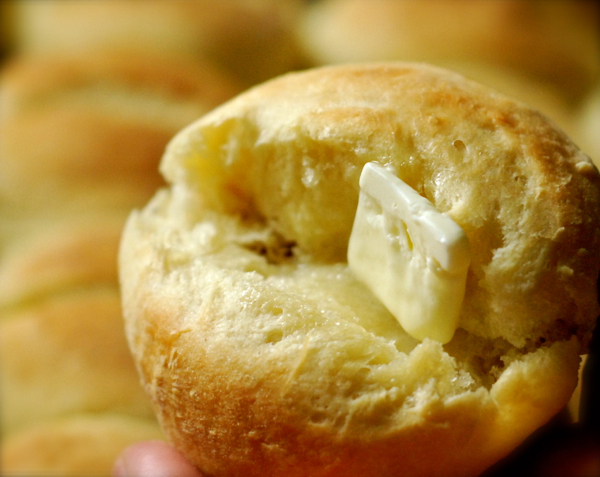 Here's an easy, delicious recipe for classic Parker House Rolls that I found in June Carter Cash's Mother Maybelle's Cookbook.
These yummy rolls would make the perfect accompaniment to a casual soup and salad lunch or a fancy holiday dinner. Please pass the rolls and plenty of butter!
1 envelope (1/4 oz.) active dry yeast
1 and 1/2 cups warm water (120 degrees F. )
2 Tablespoons butter or shortening
1 teaspoon salt
1/4 cup sugar
3 and 1/2 cups all purpose flour, sifted
1 egg, well beaten
melted butter for brushing over tops
In a large bowl, dissolve yeast in the water. Add the shortening/butter. Allow to melt. Stir in salt, sugar and sifted flour. Cover with plastic wrap and allow dough to rise in a warm place. When doubled in size, mix in the egg and knead gently. Cover and let rise again until doubled in size.
Preheat oven to 400 degrees F. Roll out on a floured board and cut into rounds with a 2-inch biscuit cutter. Crease each roll in the center with a dull knife and brush with the melted butter. Fold in half on the crease and pinch sides to seal.
Place rolls on an ungreased baking sheet. Brush tops with melted butter again. Cover and allow to rise in a warm place for 30 minutes. Bake for 20 to 25 minutes in preheated oven. Makes 24 rolls.
Enjoy!
~Melissa
You may enjoy these related posts: