Print Friendly Version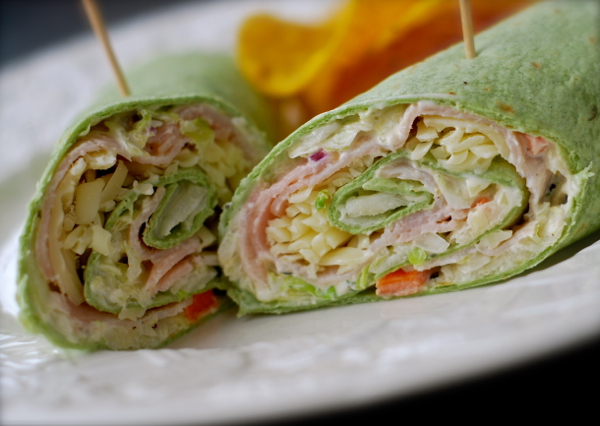 I've received so many requests for my Crunchy Ham Wrap recipe these past couple weeks that I decided to create a new crunch wrap. This one has fun, delicious ingredients, and it's an easy lunch or light dinner sandwich to make when you're low on time. Everyone who's ever tried one of my crunch wraps loves them and always asks me for the recipe.
for 6 turkey swiss crunch wrap sandwiches:
6 large tortilla wraps (I used Mission brand's Garden Spinach Herb)
1 lb. (16 oz) shredded cabbage OR coleslaw mix
1/3 cup dried cranberries or cherries
3/4 cup bottled slaw dressing OR homemade (recipe below)
18 slices of turkey lunch meat (I get mine in the grocery store deli)
8 oz. shredded Swiss cheese
Place the 6 wrap tortillas on plates. Mix up slaw, dried cherries/cranberries, and slaw dressing until evenly combined. Divide slaw evenly between the 6 wraps (approximately 1/3 to 1/2 cup of slaw per wrap.) Smooth slaw into an even layer on each wrap. Top each sandwich with 3 slices of turkey and a generous sprinkling of the Swiss cheese. Wrap each tortilla tightly, cut in half on the diagonal, and skewer each sandwich half with a bamboo skewer or long wooden toothpick. Serve with your favorite chips.
for the homemade slaw dressing:
1/2 cup real mayonnaise
1 teaspoon apple cider vinegar
1 Tablespoon honey or sugar
1 Tablespoon Dijon mustard (I used French's Chardonnay Dijon)
2 teaspoons fresh thyme leaves
1/2 teaspoon freshly ground black pepper
1/2 teaspoon onion powder
Mix well and combine with 1 lb. shredded cabbage.
Enjoy!
~Melissa
You may enjoy these related posts: