Print Friendly Version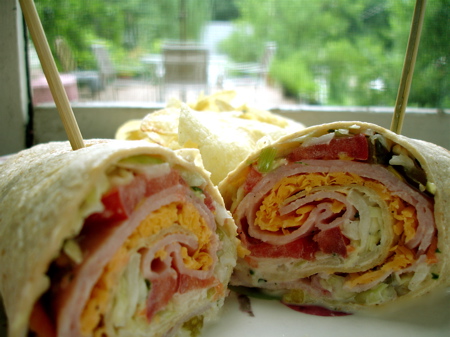 ~crunchy ham wrap~
(4 wraps)
This yummy, healthy sandwich recipe was inspired by my friend Bonnie's recipe. I make mine a little different, but both versions are wonderful.
4 sandwich wraps or large, flour tortillas
8 slices of thin, deli ham
4 cups shredded coleslaw mix
1 cup chopped sweet pickle
1 cup thinly sliced radishes
3 green onions, chopped (with the green tops)
3 Tablespoons sugar
1 Tablespoon cider vinegar
6-8 Tablespoons real mayonnaise
2 Tablespoons dijon mustard
2 Roma tomatoes, seeded and chopped
1/2 cup shredded sharp cheddar cheese
Mix coleslaw, pickle, radishes and green onions in a large bowl. In a small bowl, mix sugar, vinegar, mayo, and mustard. Combine with the coleslaw mix until well incorporated.
Place the 4 sandwich wraps on 4 plates. Spread some of the coleslaw mix on the wrap. (You'll end up with extra coleslaw.) Place 2 slices of ham on each. Top with the tomato and shredded cheese, and sprinkle with salt and pepper. Wrap tightly, slice on the diagonal, and pierce each half sandwich with a wooden skewer. Serve with your favorite potato chips or fresh fruit. This sandwich is wonderful with tea or coffee.
Enjoy!
~Melissa
You may enjoy these related posts: