Print Friendly Version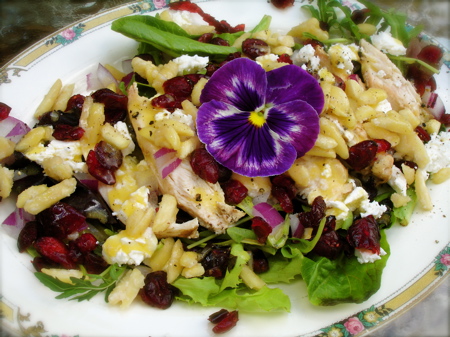 ~luna salad~
I thought, in celebration of the "Full Thunder Moon," the only full moon this month, I would post one of my favorite salads called "Luna Salad." My sister Robin shared this recipe with me a few years ago, and we just love the combination of flavors. Crisp, bright spring greens, chewy craisins, crunchy-sweet vanilla almonds, creamy feta, and a tangy Dijon vinaigrette. You can serve this salad as a first course for a big meal, or, do what we do… add grilled chicken breast strips to the salad and it becomes the main course.
This recipe is inspired by the "Luna Salad" from the "Luna Cafe" in Spokane Washington.
arrange in this order…
on each plate:

spring greens or Romaine lettuce
thinly sliced red onion
2 Tablespoons crumbled feta or Gorgonzola cheese
2 Tablespoons craisins
2 Tablespoons caramelized vanilla almonds (recipe below)
a generous drizzle of dressing (recipe below)
Dressing:
1 cup olive oil
1/2 cup white wine vinegar
2 Tablespoons lemon juice
2 Tablespoons fresh, minced garlic
2 Tablespoons Dijon mustard
shake in a canning jar or cruet
Caramelized Almonds:
1 cup white sugar
1/3 cup water
1 Tablespoon pure vanilla extract
1 pound almonds (or walnuts)
Cook water, sugar and vanilla over medium heat until light brown-Do not stir. Add nuts, coat well and pour onto a large cookie sheet. Allow to dry for three hours. Whatever you don't use on the salads, scrape off into an airtight container for later….we love these yummy little confections on ice cream sundaes!
Enjoy!
~Melissa
You may enjoy these related posts: