Print Friendly Version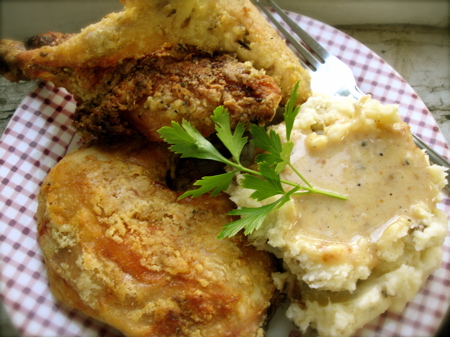 ~Amish Oven Fried Chicken~
This is an easy, amazingly delicious, recipe for Amish oven fried chicken. It's full of flavor, crispy, and the drippings make the best gravy on the planet. It's wonderful hot or cold. We love this served with fresh tomato salad, macaroni salad, buttery country biscuits, and peach pie for dessert! Now you have a delicious picnic menu you can refer to whenever you like.
for the chicken:
1/3 cup vegetable oil
1/3 cup butter
1 cup flour
1 teaspoon salt
2 teaspoons black pepper
2 teaspoons paprika
1 teaspoon garlic powder
1 teaspoon dried marjoram
8-9 pieces of chicken, bone-in, skin-on
Place oil and butter in a big jellyroll pan. Put in preheated 375 degree oven. Mix flour and seasonings in a big paper bag or mixing bowl. Remove pan with oil and butter in it as soon as the butter is completely melted. Roll chicken pieces in the butter mixture and then dredge in the flour mixture. Once all of the chicken pieces are coated, place them skin-down on the jellyroll pan. Bake at 375 degrees F. for 45-50 minutes. Turn chicken pieces over and bake for another 10 minutes, or until chicken is browned well, crispy and bubbly. Use pan drippings to make gravy for mashed potatoes, fries or biscuits. Serve chicken hot or cold. Perfect for a picnic!
Enjoy!
~Melissa
You may enjoy these related posts: