Print Friendly Version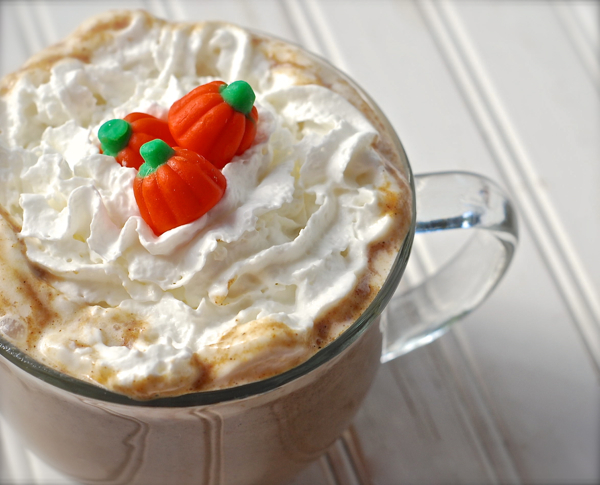 Looking for a cozy, spicy, pumpkiny beverage to get you started on these chilly autumn mornings? Look no further. These yummy, Pumpkin Spice Lattes are so delicious, and they don't cost $5 a pop! Move over, Starbucks!
for two pumpkin spice lattes:
2 cups whole milk
2 Tablespoons pure canned pumpkin puree (not pumpkin pie filling)
2 Tablespoons dark brown sugar
1 Tablespoon pure bourbon vanilla (we love Trader Joe's brand!)
1 teaspoon pumpkin pie spice
a little pinch of cayenne pepper
2 shots freshly brewed espresso
whipped cream and pumpkin candies for garnish
freshly grated nutmeg (optional)
In a 2 quart saucepan, heat milk, pumpkin and brown sugar over medium heat. Heat just until hot (don't boil.) Remove from heat. Using a wire whisk, stir in the pumpkin pie spice, cayenne, vanilla and espresso. Mix well. Pour into two large mugs. Garnish with sweetened whipped cream (we used Redi Whip), and some cute pumpkin candies. Sprinkle on a little fresh nutmeg, if you wish.
Enjoy!
~Melissa
You may enjoy these related posts: