Print Friendly Version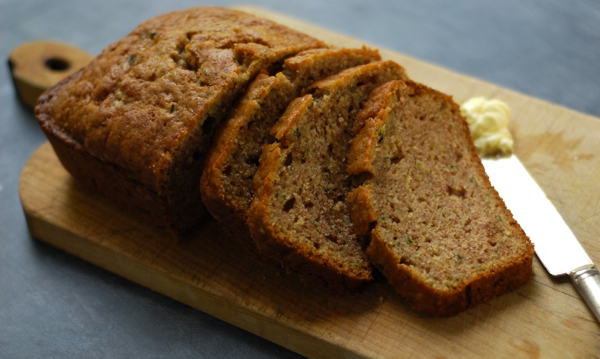 Ahhhh….the beginning of another weekend. Gracie and I spent a few hours at Barnes & Noble today while Jeff was attending a meeting. We got tea and frappuccinos and pizza-stuffed pretzels and looked at magazines and books. Always a nice way to relax and ease into Friday.
Here's a yummy, tried and true recipe for zucchini bread. The lovely, spicy scent of this bread baking reminds me of waking up in a little country B&B and going downstairs for a romantic breakfast. This is how I've been making my zucchini bread for years. I never add chopped nuts, or chocolate chips or dried fruit to mine, but if that's your cup of tea, fold in a cup or two when you're done mixing up the batter.
3 large eggs, lightly beaten
1 cup light olive oil
1 cup sugar
3/4 cup brown sugar
2 cups (packed) grated zucchini, unpeeled
2 teaspoons pure vanilla extract
3 cups all-purpose flour
3 teaspoons cinnamon
1/2 teaspoon nutmeg
1 teaspoon baking soda
1/2 teaspoon baking powder
pinch of ground cloves
1 teaspoon salt
Preheat oven to 350 degrees F. Spray two 8 x 4 loaf pans.
In a large mixing bowl, combine the eggs, oil, sugars, zucchini and vanilla until well mixed. In a separate bowl, combine the dry ingredients and mix well. Add the dry ingredients to the wet ingredients and mix, using a wooden spoon, until just combined and the ingredients are evenly incorporated. Divide the batter between the two loaf pans. Place in preheated oven and bake 60 minutes or just until a wooden skewer comes clean when inserted into the center of the loaves.
Enjoy!
~Melissa
You may enjoy these related posts: