Print Friendly Version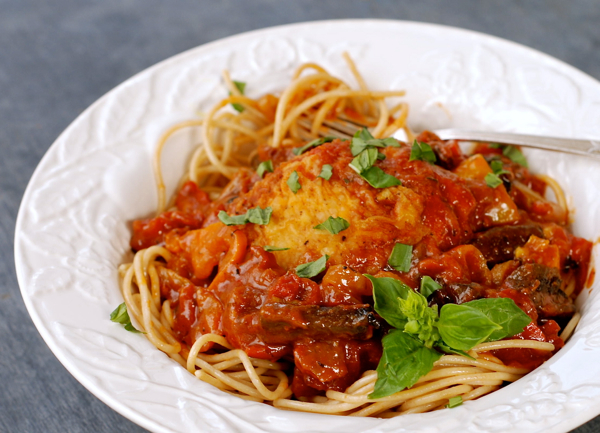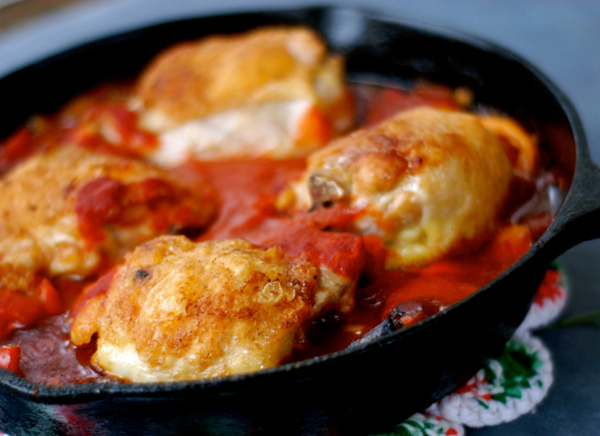 Italian comfort food is my favorite kind of comfort food. Beautiful spices, sauces and fragrances that pair perfectly with al dente pasta and a glass of chianti or sangiovese. Pure heaven!
Cacciatore means "hunter" in Italian and Cacciatora refers to an earthy, stew-like dish that's prepared "hunter-style." Cacciatore meals traditionally feature a medley of fresh tomatoes, onions, garlic, sweet bell pepper, mushrooms, wine and herbs. This dish can be made successfully with chicken or rabbit.
~ preheat oven to 350 degrees F. ~
serves 5 people ~ 2 pieces each
1 lb. linguini or spaghetti
10 bone-in, skin-on chicken thighs
coarse sea salt and freshly ground black pepper
1/2 cup all purpose flour
4 to 6 Tablespoons olive oil
2 Tablespoons butter
 1 whole, medium onion, halved and sliced
1 whole yellow bell pepper, cored and sliced
1 whole orange bell pepper, cored and sliced
1 whole yellow bell pepper, cored and sliced
6 large cloves fresh garlic, chopped
12 oz. fresh portobello mushrooms, washed and sliced
1/2 teaspoon fresh thyme leaves
1/4 teaspoon turmeric
1/4 teaspoon to 1/2 teaspoon red pepper flakes
3/4 cup dry white or red wine
1 (15 oz.) can fired roasted, petite diced tomatoes + juice
1 (15 oz.) can tomato puree
fresh basil and parsley, chopped (for garnish)
freshly grated Parmesan cheese (for sprinkling over top)
Cook pasta according to directions for al dente pasta. Drain well, place in a large pasta serving bowl, toss with a drizzle of olive oil, cover and set aside.
Salt and pepper chicken pieces. Dredge in flour. Divide and heat olive oil and butter in two separate, heavy, oven-safe skillets. Once hot, place chicken pieces, skin side down, in pans (4 to 5 in each pan.) Cook until golden brown on both sides. Remove browned chicken to a platter. Pour half the fat out of each skillet and discard.
Divide and add the sliced onions, peppers and garlic to the two separate pans. Sautee for one minute. Add the mushrooms and sautee for an additional minute. Add thyme, turmeric and red pepper flakes. Salt and pepper to taste. Add the wine and bring to a gentle boil. Add the tomatoes and tomato puree. Stir until everything is evenly incorporated. Add the chicken back to the pans, skin side up. Place lids on pots or tightly cover with heavy duty aluminum foil. Place covered skillets in oven to cook for 45 minutes. After the 45 minutes is up, uncover the skillets and increase oven temperature to 375 degrees F. Cook an additional 15 minutes
Remove skillets from oven. Transfer chicken to a big, pretty platter. Arrange veggies and mushrooms around the chicken pieces. Spoon juices over the chicken and veggies. Plate the pasta in single serving pasta bowls. I like to allow guests to serve this dish themselves, so they can add as much of the sauce and veggies to their chicken and pasta as they like. Garnish with the chopped herbs and fresh Parmesan.
Enjoy!
~Melissa
You may enjoy these related posts: