Print Friendly Version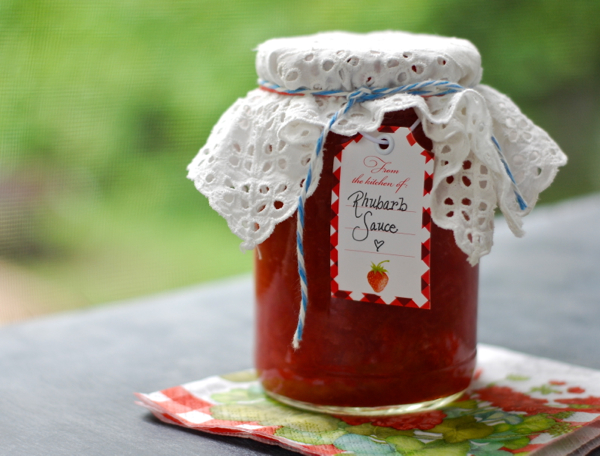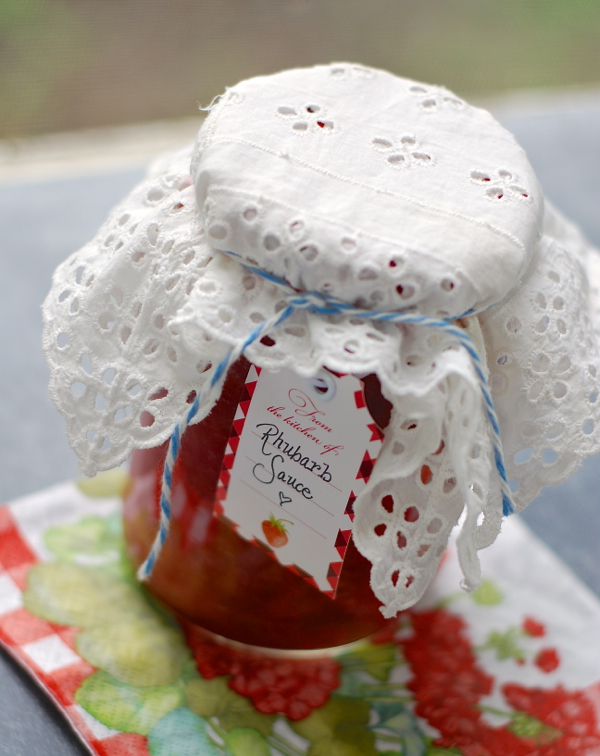 Are you starting to wonder what you're possibly going to do with all of that rhubarb in your garden? My friend Carol has brought me two huge bunches of this delicious fruit within the last couple weeks. I've made old favorites like Rhubarb Custard Cake, Sandy's Rhubarb Ketchup, Old Fashioned Rhubarb Crisp, Rhubarb Picnic Cake, rhubarb coolers/Italian Sodas, and the lovely rhubarb sauce pictured above. I have little ziploc freezer bags full of rhubarb that I have earmarked for other delicacies we can enjoy throughout the summer… things like Strawberry Rhubarb Pie, Rhubarb Tarts, Spicy Cucumber Rhubarb Chicken, Cobbler, Strawberry Rhubarb Jam, Peach Rhubarb Skillet Upside-Down Cake, and my friend Carol's recipe for Rhubarb Dumplings!
This is my very easy and yummy recipe for rhubarb sauce. Use ripe, pink rhubarb for this recipe to achieve the pretty pink colored sauce you see above… or feel free to add a few teaspoons of cherry juice to your sauce to get it to turn pink.
Rhubarb sauce is wonderful as an ice cream topping, in yogurt and granola parfaits, on pancakes, waffles and French toast, swirled into your morning oatmeal, or as the fruit base/sweetener for smoothies!
5 cups chopped, ripe, pink rhubarb
1 heaping cup of sugar
3 Tablespoons water
2 to 3 teaspoons cherry juice (for color, if needed)
Place all ingredients in a medium saucepan and stir over medium heat. Lower to a simmer and cook, stirring frequently, for about 20 minutes. Sauce is done when fruit has dissolved. Adjust sugar to taste if needed. Cool, place in a one quart canning jar, and refrigerate until ready to use. This sauce will keep in your refrigerator for 7 days.
Enjoy!
~Melissa
You may enjoy these related posts: