Print Friendly Version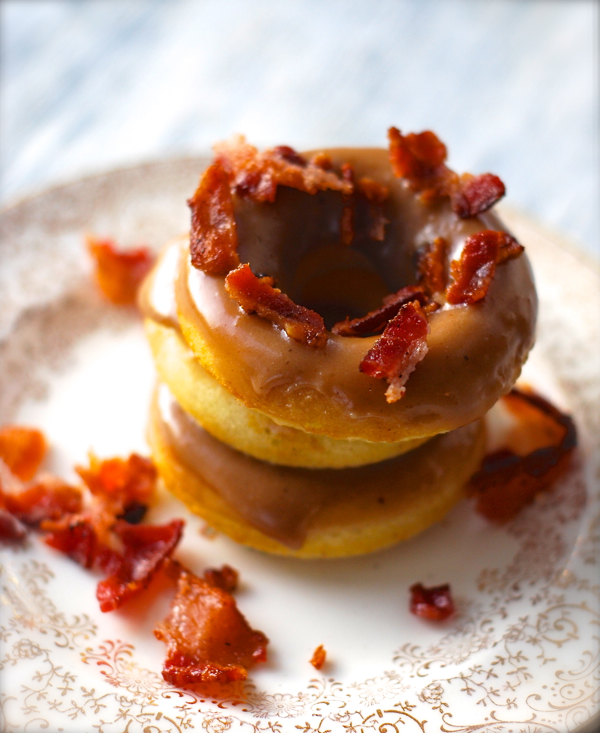 I've been cooking almost all day, and what a fun day it's been. Playing with the Demarle pans again! This time I made Chicken Cordon Bleu in the grande mold…and when Gracie got home we made a batch of these baked maple bacon mini donuts in the donut pan. Everything turned out so good. I can't get enough of these pans. I'm serious. Nobody is paying me to say this. I've fallen in love with this product and really can't see myself going back to regular bake ware after this. What I love the most is the even, beautiful cooking, the easy clean up, and the fact that you literally don't have to do anything to prepare these pans before using them.
Again, if you'd like to talk to an expert about this product, just contact my friend Candace…she can set you up. Here's a link to her website.
Other than cooking we've been getting ready for Christmas! Decking the halls and deciding what to make for gifts. I love all of the creative ideas and inspiration I'm seeing on Pinterest this year!
Hmmmm…what else…over the last few weeks we've seen some great movies. Breaking Dawn Part 2, Skyfall, and Life of Pi were all amazing. All of them totally worth going to see in the theater. I watched Moonrise Kingdom, Last Exotic Marigold Hotel ,Salmon Fishing in the Yemen, and 50/50 on demand…also wonderful. Looking forward to Les Mis, Silver Linings Playbook, Perks of Being a Wallflower, Seeking a Friend for the End of the World and People Like Us. Seen anything good lately? I'm always looking for new titles.
Just finished reading THIS book which was a waste of paper. I kept waiting and waiting for something significant to happen…and all it really was was pretentious drivel. Now I'm reading THIS which is awesome, engaging and beautiful. What are you reading?
Well…I suppose I can get on with posting the recipe for those donuts now. I think you're going to love these delicious little confections!
makes approximately 36 mini dounuts
for the donuts:
2 cups cake flour
3/4 cup sugar
2 teaspoons baking powder
1 teaspoon salt
1/2 teaspoon nutmeg
3/4 cup buttermilk
2 eggs
2 Tablespoons melted butter
for the glaze:
2 cups powdered sugar
3 Tablespoons bacon drippings
3 Tablespoons water
1 teaspoon maple extract
1/2 teaspoon coarse sea salt
for garnish:
6 pieces of bacon, fried until crispy and crumbled
Preheat oven to 425 degrees F. If using a Demarle pan, don't grease…if using a metal pan, spray with Baker's Joy. Mix wet and dry ingredients separately and then mix the wet and dry ingredients together until just combined. Fill the donut pan molds half full. Bake about 9 miutes, or just until the donuts spring back when tested with index finger. Cool in pan for about 5-10 minutes. Pop donuts out and drizzle with maple glaze and sprinkle crisp bacon crumbles over the tops.
Enjoy!
~Melissa
You may enjoy these related posts: