Print Friendly Version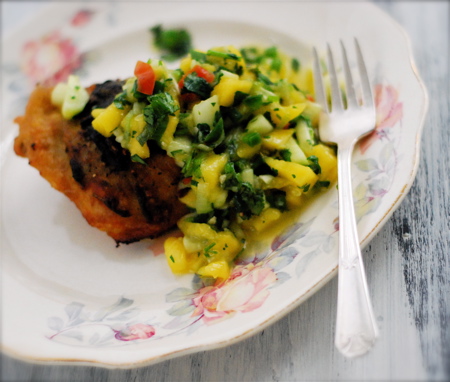 ~ spicy cucumber mango chicken ~
We make chicken a couple times a week, and I'm a firm believer that you just can't have too many good chicken recipes. I discovered a recipe for "Spicy Chicken Thighs with Rhubarb Cucumber Salsa" in one of my recent copies of bon appetit magazine, and was SO excited to try it. I asked the produce guy if he could please direct me to where they keep the rhubarb, and he said I was out of luck…no rhubarb for at least another week. So, I decided to substitute mango for the rhubarb and it turned out amazing. If you have rhubarb, feel free to us it in place of the mango, and let me know how it turns out 🙂
1 Thai chile with seeds, stemmed
2-3 large garlic cloves, minced
2 scallions, thinly sliced, white and green parts divided
1 Tablespoon soy sauce
1/4 cup extra virgin olive oil
6 large skin-on, bone-in chicken thighs
kosher salt
1 and 1/2 cups mango (or rhubarb) cut into small chunks
1 cup hothouse cucumber, seeded and cut into small chunks
1/2 cup coarsely chopped cilantro
1-2 Tablespoons honey
1 Tablespoon olive oil
juice of 1/2 lime
coarse sea salt
freshly ground black pepper
I pulsed the chile, garlic, white parts of the scallion, soy sauce and olive oil in a food processor, rubbed it all over the chicken thighs (including under the skin) and let it marinate in a ziploc for 8 hours. This really punched up the flavor of the chicken.
After the marinating time is done, preheat oven to 500 degrees F. Place the chicken thighs on a lightly oiled or foil-lined baking sheet and bake, skin side up, with marinade poured over the top, until skin is crisp and meat thermometer reads 165 degrees when inserted in thickest part of thigh. Broil on high for an additional 2 minutes for crisper skin. Watch closely so you don't burn the chicken.
While chicken is baking, toss mango (or rhubarb), cucumber, cilantro, honey, olive oil, lime juice, salt and pepper in a bowl to coat. Allow to sit for at least 10 minutes so the flavors can meld.
Serve the chicken with the salsa poured over the top or alongside.
Enjoy!
~Melissa
You may enjoy these related posts: