Print Friendly Version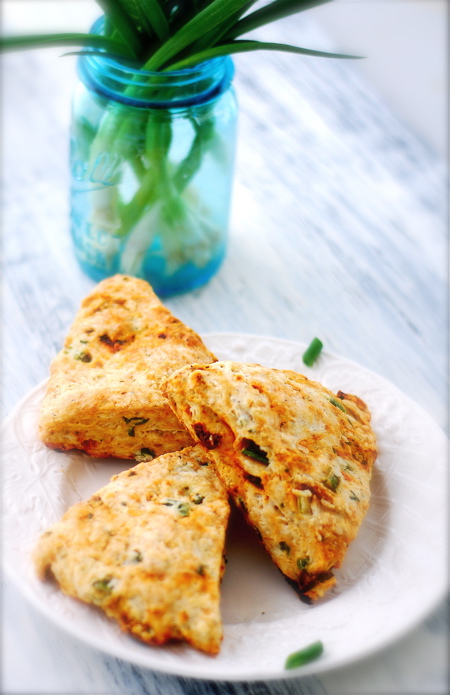 ~ savory sun-dried tomato vermont cheddar scones with spring onions ~
We've had a couple chilly days here in Minnesota so yesterday I pulled the big red Dutch oven down from it's shelf and made a pot of my three fish soup. Instead of just serving it with crackers or biscuits I decided to make a batch of these delicious, savory scones. They turned out wonderful and were the perfect accompaniment to the soup. Jeff and Gracie gave them rave reviews.
3 cups all-purpose flour
1 Tablespoon baking powder
1 and 1/2 teaspoons sugar
1 and 1/2 teaspoons salt
1 teaspoon garlic powder
1 teaspoon freshly ground black or white pepper
1 cold or frozen stick of butter
2 cups grated sharp Vermont white cheddar cheese
4 spring onions or a handful of fresh chives, chopped
1/3 cup minced sun-dried tomatoes in oil
1 cup cream
1/4 cup greek yogurt
Heat oven to 400 degrees F. Mix all of the dry ingredients together in a large bowl. Grate the frozen butter into the bowl, using a cheese grater with large holes. Toss the dry ingredients gently but evenly with the butter using a wooden spoon. Add cheese, tomatoes and onions.  Toss to combine. Add the cream and yogurt and stir just until the ingredients form a ball. Turn dough out onto a lightly floured surface. Divide into two balls and flatten each into a disc about 6 inches across. Cut each disc into 6 wedges. Place on a large, lightly greased cookie sheet about an inch apart (you may need to use two cookie sheets.) Brush each scone with a little cream or egg wash. Bake 20-25 minutes or until golden and baked through.
Enjoy!
~Melissa
You may enjoy these related posts: