Print Friendly Version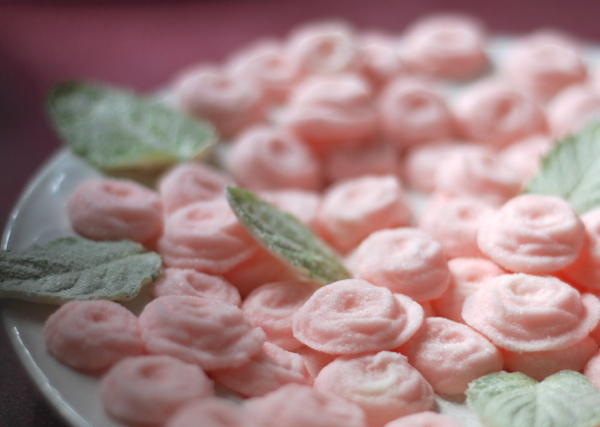 These little mints evoke so many memories for me. My grandma's friend, Victoria, was a caterer for much of her life, and she actually catered my and Jeff's wedding. (Read more about Vic in THIS post.) Throughout my childhood and teen years I attended other weddings that she catered, and she always made these pretty, creamy little mints. Sometimes they were in the shape of wedding bells, and sometimes they were in the shape of roses. The colors varied, but they always tasted the same. Minty and delicious.
When I attended my senior prom I was delighted and surprised to find little trays of these mints on serving tables sprinkled throughout River Centre where our prom was held. I always thought they were a Vickie specialty, and it never occurred to me that other people made them too.
Vic made a bunch of these for my first baby shower. She gave me a hug and winked at me as she told the group of ladies that she had to make the mints that I loved so much when I was little.
So, you can see that this recipe is special to me. And, now I'd like to pass it along to you. If you have a special event or an intimate dinner party that you're looking forward to, you can make some of these gorgeous mints for your guests. The recipe calls for only 5 ingredients and the mints go together quickly and easily. Add a drop of culinary rose water to the mix if you'd like to serve rose mints. (An especially nice ending to a Sweetheart's dinner on Valentine's Day.)
to make 100 (1 inch) mints:
1 lb. powdered sugar
4 oz. cream cheese, softened to room temperature
1/2 teaspoon pure peppermint extract
1 drop red food coloring
granulated sugar (for rolling mints)
Place powdered sugar and cream cheese in the bowl of a counter top mixer. Using the whisk attachment, start mixer on very low until cheese and sugar come together to form a very thick, smooth, soft dough. Scrape down sides of bowl, using a rubber spatula, as necessary. The dough should be moist enough that it doesn't crumble and stiff enough not to stick to your hands when rolling it into little balls. You may need to add more sugar or cream cheese to get the desired consistency. Add the mint extract and food coloring and mix on medium speed just until the color is consistent.
Pat your hands with a little powdered sugar before forming the candy "dough" into approximately 1/3 inch balls. Roll balls in granulated sugar and gently press into a plastic candy mold. Once mold is full, turn mints out onto a pretty serving plate. Repeat until you're out of dough. Once all mints are made, arrange them on the plate in one layer. Garnish with crystallized mint leaves (as pictured above) if you wish. Refrigerate until ready to serve. If mints are going to be chilled for more than an hour before serving, store them in a covered, airtight container.
Enjoy!
~Melissa
You may enjoy these related posts: