Print Friendly Version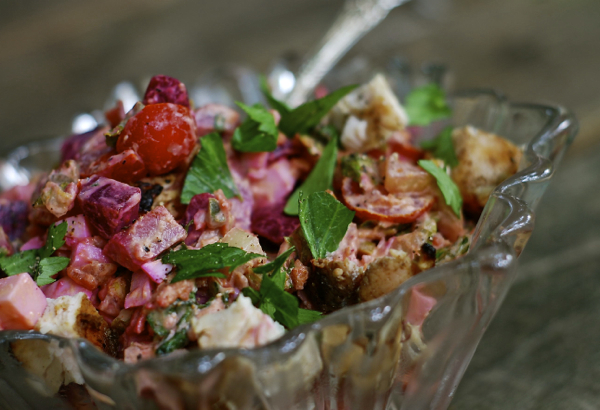 This recipe is inspired by the original Bergdorf Goodman's Gotham Salad that's served at BG's restaurant, a fantastic lunch spot in New York with views of Central Park. This salad is a long time favorite of all who've enjoyed it. I love making it in my own home for dinner guests. I mix mine all up, but you could serve it with the chopped beets on top, like they do at the restaurant, if you wish. I like to garnish mine with a little chopped parsley too. Because of the lettuce in this salad, it should be served immediately so it doesn't get watery. If you'd like to make this in advance, don't mix the lettuce in until right before you serve it.
serves 6 people as an appetizer salad or 4 as a large dinner salad
for the salad:
8 cups shredded iceberg lettuce
1 cup cooked, chilled, chopped beets (you can use pickled if you like)
1 cup diced tomatoes
1 cup hard boiled eggs, chopped
1 cup diced, cooked, chilled ham
1 cup cooked, crisp, chilled, chopped bacon
1 cup cooked, chilled, diced chicken breast
1 cup diced gruyere cheese
Mix all ingredients in a big bowl, or leave the beets out for garnish/topping
for the dressing:
1 Tablespoon diced, purple onion
2 Tablespoons diced. green bell pepper
1/4 cup + 1Tablespoon chili sauce
2 Tablespoons sweet pickle relish
1 teaspoon tarragon vinegar
1/2 teaspoon grated, fresh ginger
1/4 cup real mayonnaise (no substitutes)
1 large clove chopped garlic
salt and freshly ground black pepper, to taste
Place all ingredients in the bowl of a blender. Puree until smooth. Mix with salad until well combined. Serve salad immediately.
Enjoy!
~Melissa
You may enjoy these related posts: