Print Friendly Version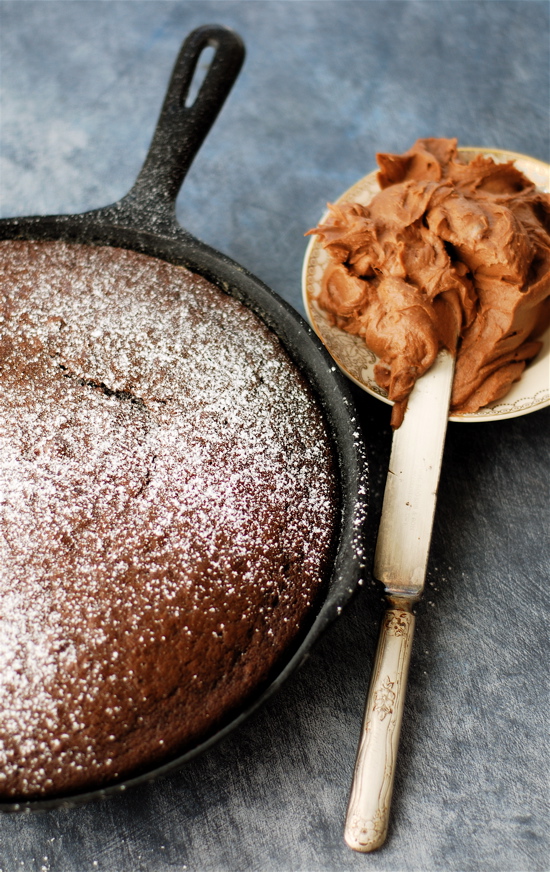 Grace and I have been busy in the kitchen again…I made a new batch of tomato jam with changes to the recipe this time. Can't wait to share that spicy little number with you! I think it will be fantastic on homemade fries served alongside a grilled ribeye and a crispy crunchy green salad.
While the tomato jam was simmering on the stove, we made an awesome, rich, chocolate skillet cake. It's dark, dense, topped with homemade chocolate buttercream and has the slight hint of coffee and cinnamon. The little crunch on the edges is from baking it in a cast iron skillet, and it's the best part. This would pair well with a dark cup of Keemun, cold press coffee, or your favorite iced tea. You won't believe how easily this handsome little cake goes together. Great for an impromptu dinner party or potluck.
for the cake:
1/2 cup unsweetened cocoa powder
2 oz. dark chocolate bar, coarsely chopped
2 teaspoons instant coffee or espresso powder
1 and 1/2 cups all-purpose flour
1 teaspoon baking soda
1 teaspoon salt
1/2 cup + 2 Tablespoons butter, room temperature
1 cup packed, brown sugar
1/4 cup white sugar
1 teaspoon pure vanilla extract
3 large eggs
1/4 cup + 2 Tablespoons buttermilk
1 teaspoon cinnamon
Preheat oven to 350 degrees F. Butter and flour a 10 inch cast iron skillet. In a small bowl, combine cocoa powder, chopped chocolate, espresso powder and 3/4 cup very hot water. Whisk until melted and combined completely. Allow to cool.
In a separate bowl, mix flour, soda and salt.
In the bowl of a Kitchen Aid, using the whisk attachment,  beat the butter until creamy. Add sugars and vanilla. Beat until fluffy. Scrape bowl. Add eggs and beat until just combined. Add the cooled chocolate mixture and buttermilk. Mix until just combined. Add the flour mixture and mix until evenly combined. (You may have to do the last bit of mixing by hand to insure you get all of the ingredients evenly distributed and scraped off the bottom of the bowl.)
Pour into prepared skillet. Bake for 40-45 minutes, turning the pan halfway through cooking time. Use a wooden toothpick or skewer to check for doneness. Cool completely before frosting.
for the chocolate buttercream:
1/2 cup softened butter
1 cup powdered sugar
1 Tablespoon pure vanilla extract
3 oz. semi-sweet chocolate chips, melted and cooled
Beat butter until light and creamy. Add the powdered sugar and vanilla and beat until mixed in evenly. Add the cooled, melted chocolate chips. Beat until smooth and color is uniform. Frost the cooled cake.
Enjoy!
~Melissa
You may enjoy these related posts: