Print Friendly Version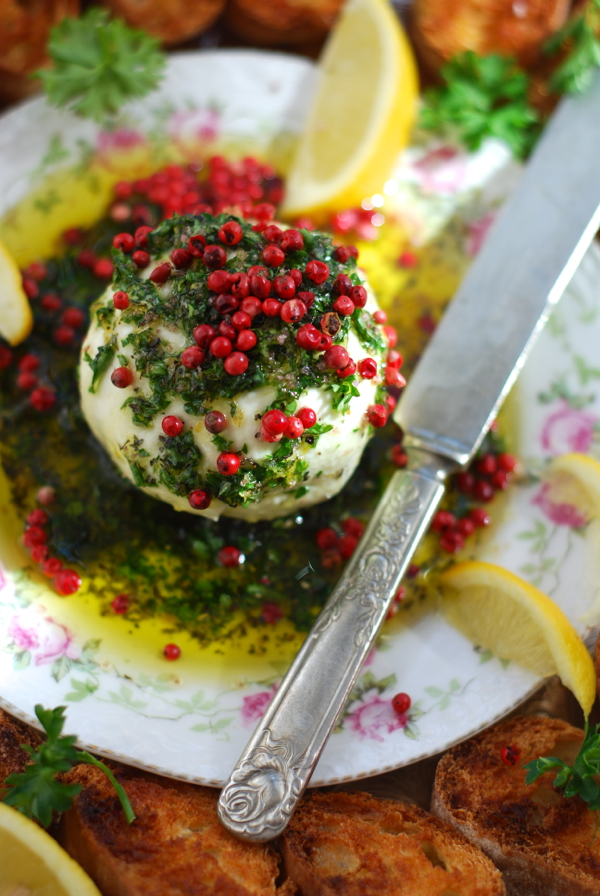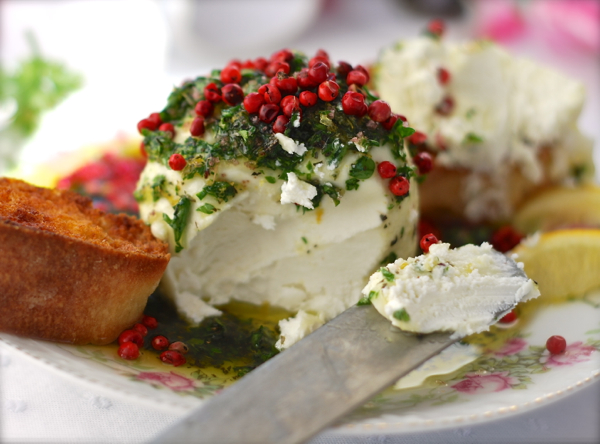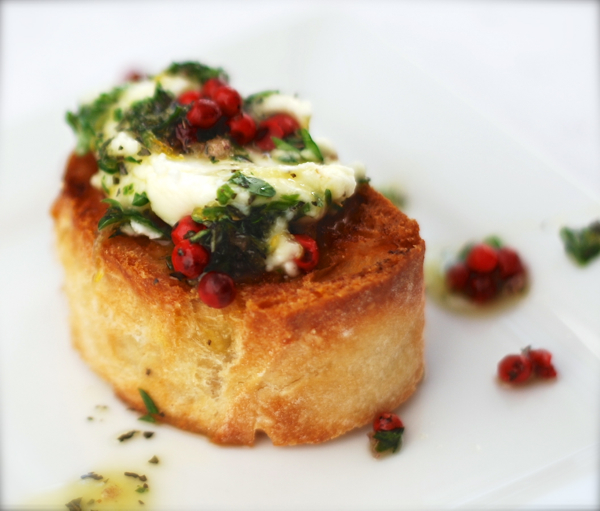 Hello, Lovelies! I'm heading out to the back yard to plant my herbs! So excited start cooking with fresh herbs again now that the warm weather has finally graced us with it's presence.
We're going to be picking up our new arbor today…another fun development in our garden happenings. I think I already told you that the last snow storm pulled our old wooden one down. When we get the new one up I'll take before and after photos to share with you.
Here's my latest creation. Oh my gosh. This stuff is SO good. I could hardly believe I made it. And it's easy! Which is awesome for impromptu gatherings. You could have the ingredients for this around all summer and whip it up in 10 minutes if friends come to call. Just pop open a bottle of vino and voila….magic!
I love good goat cheese (chevre, montrachet.) If you don't like goat cheese, don't worry. Cream cheese is a good substitute.
5.5 oz. mild goat cheese
1 Tablespoon fresh chopped parsley
1 teaspoon dried basil
3 Tablespoon extra virgin olive oil
2 Tablespoons honey
1 teaspoon finely grated lemon zest
1/4 teaspoon sea salt
1/2 teaspoon freshly ground black pepper
1 heaping Tablespoon pink peppercorns
1 baguette, sliced, lightly coated with garlic butter and toasted until golden
Remove goat cheese from packaging and gently roll into a ball. Place ball on the center of a pretty plate. In a small bowl, combine the parsley, basil, olive oil, honey, lemon zest, salt and black pepper. Mix well using a wire whisk or fork. Pour over the goat cheese ball. Sprinkle with the pink peppercorns and serve with toasted garlic baguette. This appetizer is especially wonderful with sauvignon blanc, dry riesling, or pinot grigio.
Enjoy!
~Melissa
You may enjoy these related posts: