Print Friendly Version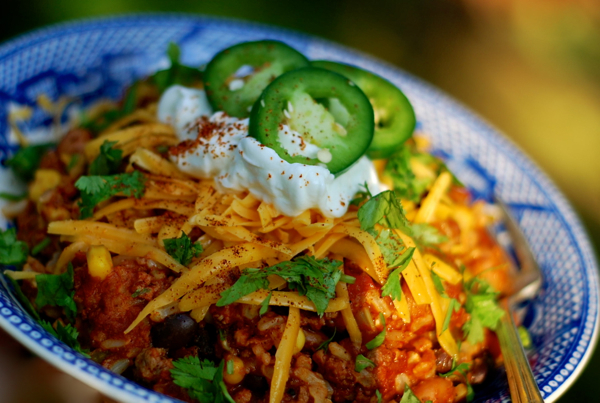 This is one of those dishes that was created from a combination of not wanting to go to the grocery store and wanting to make something super easy. I know the ingredient list looks long, but it's a list of stuff you probably already have on hand. Feel free to substitute any ground or shredded meat you have in your fridge for the hamburger. Don't have black beans? No worries! Use whatever canned beans are sitting on your pantry shelf, or omit them all together and add more meat. You get the idea. It's pretty much impossible to mess this up. All can sizes are approximately 15 oz. Saute the onion and celery ahead of time, if you wish.
for the casserole:
1 lb. lean ground beef, browned and drained
4 cups cooked white or brown rice
1/2 large onion, chopped
2 sticks celery, chopped
2 Roma tomatoes, chopped (or 2 smallish tomatoes)
1 can sweet corn, drained well
1 can petite diced tomatoes, undrained
1 can tomato puree
1 can pinto beans, rinsed and drained well
1 can black beans, rinsed and drained well
3 Tablespoons mild chili powder
1 Tablespoon smoked paprika
2 teaspoons cumin
1 teaspoon garlic powder (or fresh garlic, minced)
1/4 teaspoon cinnamon
a couple dashes red pepper flakes
Combine all casserole ingredients in a large mixing bowl until evenly incorporated. Pour into a large glass casserole dish or a 9×13 glass cake pan. Bake, uncovered, for 45 minutes or until bubbling and hot all the way through.
Scoop into bowls and add desired toppings.
some topping suggestions:
shredded cheese (I used sharp cheddar)
sour cream or plain greek yogurt
fresh chopped cilantro
your favorite hot sauce (I used sambal oelek)
sliced jalapeno or serrano peppers (or habaneros, if you like REALLY spicy!)
Enjoy!
~Melissa
You may enjoy these related posts: