Print Friendly Version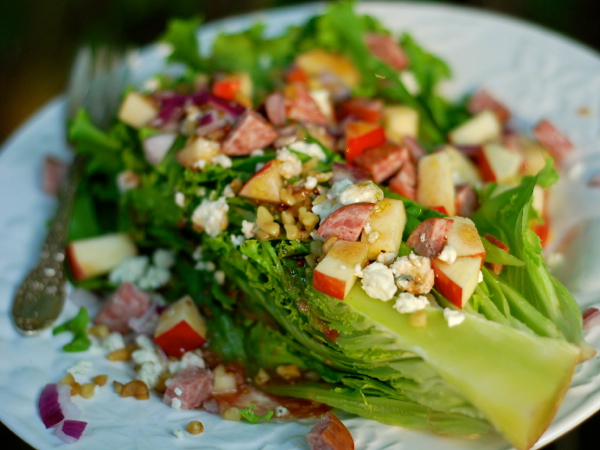 We love the fresh, crispy crunch of a good wedge salad! After making the classic wedge for awhile, I decided to get creative and make something new. This time I was inspired by the colors and flavors of autumn, and for some reason whenever I think autumn I think "wine country." This delicious salad is the result!
for 4 wedge salads:
1 head Boston lettuce (or butterhead, or ruffled-edge lettuce), quartered lengthwise
1 large, sweet-tart apple, unpeeled and cut into chunks (we like Fuji or Honeycrisp)
1/2 cup chopped walnuts
4 to 8 oz. gypsy salami or summer sausage, cut into chunks
1/2 cup crumbled blue cheese (or more, to taste)
6 Tablespoons chopped red onion
sea salt and freshly ground black pepper, to taste
Place each lettuce wedge on a separate plate. Divide the toppings evenly among the salads, sprinkling them over the top. Drizzle each salad with some red wine vinaigrette (recipe below.)
for the red wine vinaigrette:
3 Tablespoons dry red wine
3 Tablespoons extra virgin olive oil
2 Tablespoons honey
1 to 2 garlic cloves, minced
2 teaspoons grainy Dijon mustard
Place all dressing ingredients in a small bowl and whisk well with a wire whisk. Drizzle over salad. Place any extra dressing in a canning jar with a tight fitting lid and store in refrigerator for up to 7 days. (The dressing also makes a wonderful marinade for chicken.)
Enjoy!
~Melissa
You may enjoy these related posts: