Print Friendly Version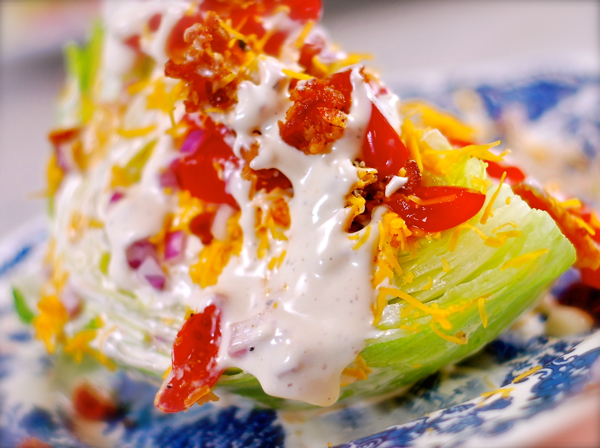 Here's one of our favorite, simple, delicious salads! It's refreshing and absolutely awesome with grilled steak! Feel free to drizzle your wedge salads with your favorite buttermilk ranch dressing, or follow the link provided below and make up a batch of my Parmesan Peppercorn Ranch. It's the perfect accompaniment to this wedge salad.
for 4 wedge salads:
1 large head chilled iceberg lettuce
1 cup chilled buttermilk ranch dressing
20 cherry or grape tomatoes, halved
1/2 cup shredded cheddar cheese
1/4 cup sliced green or chopped purple onion
1 lb fried, crispy bacon, crumbled
fresh, coarsely ground black pepper
Remove core from head of lettuce and discard. Cut head of lettuce into quarters, creating 4 wedges. Place each wedge on a separate plate. Pour 1/4 cup ranch dressing over each wedge, followed by 5 halved tomatoes, 2 Tablespoons cheddar cheese, 1 Tablespoon green onion, 2 Tablespoons crumbled bacon and a little black pepper. Serve immediately. We like to eat ours using knives and forks.
Here's a link to more salad dressings if ranch isn't your thing. I've made it with chunky blue cheese dressing, creamy thousand island, and BBQ ranch before. All versions were amazing!
Enjoy!
~Melissa
You may enjoy these related posts: