Print Friendly Version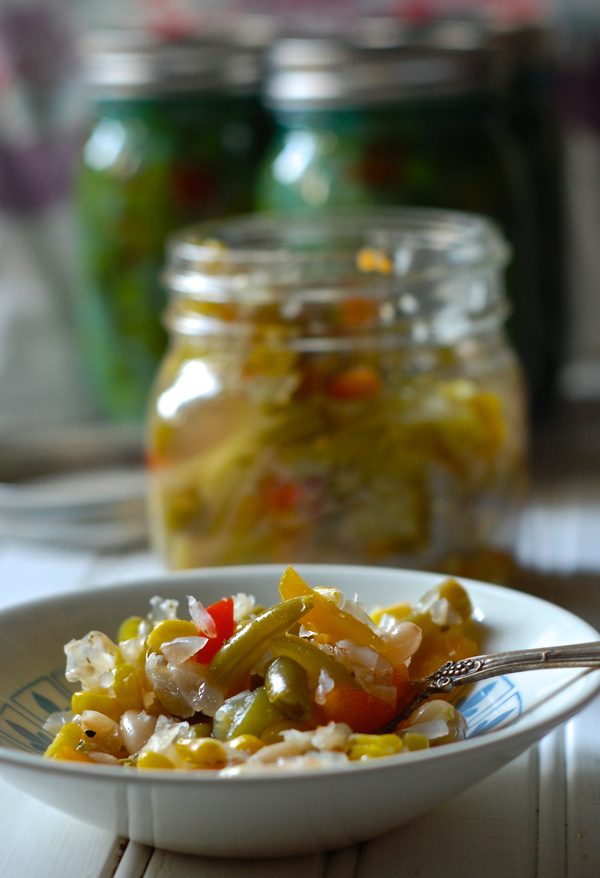 So far it's been one of those weeks that we try to get outside to play in the garden, go for walks, and hang out at the park in the morning and evening. During the day it's been unbearably hot and humid, so Gracie and I have been creating recipes in the kitchen, drawing, painting, photographing, reading and laying low. We may make some cucumber sammys and a few other treats and attempt a picnic under our big willow tree today… that way we know the air conditioning is only a few feet away should we need to run for cover from the blazing sun. What's the weather doing in your neck of the woods?
Here's a yummy treat I made for our 4th of July celebration, and we still have one jar left in the fridge. Next time I'm going to double or triple this recipe because this stuff is fantastic on everything! Burgers, hot dogs, sandwiches…as a little side salad or relish…. you name it.
3 cups fresh green bean pieces, steamed and cooled
2 (15 oz.) cans great northern beans, rinsed and drained well
1 (15 oz.) can of corn, drained well
1/2 red bell pepper, coarse chopped (about 1 cup)
1/2 ornage bell pepper, coarse chopped (about 1 cup)
4 small green tomatoes or tomatillos, chopped
1 cup sweet yellow onion, chopped fine
Place all of the above ingredients in a big bowl. Boil 6 cups water. Add 1/4 cup sea salt to the water and stir until dissolved. Pour the salt water "brine" over the vegetables in the bowl. Cover and place in refrigerator for 4 to 8 hours (or overnight.) After this brining process is over, drain vegetables and discard brine.
3 cups white or cider vinegar
1 cup sugar
1/2 cup fresh ginger root, peeled and coarsely chopped
2 bay leaves
3 teaspoons fennel seed
2 teaspoons mustard seed
1 teaspoon celery seed
1 teaspoon whole black peppercorns
4 large cloves of garlic, coarse chopped
Combine the vinegar and sugar in a large pot. Bring to a gentle simmer. Stir, and once sugar is dissolved, add the ginger root. Simmer for 5 minutes. Add bay leaves, fennel seed, celery seed, mustard seed, and peppercorns. Simmer for 10 minutes. Remove from heat and add garlic. Let rest for 10 minutes. Drain through a fine sieve into a bowl. Pour this infused ginger "liquor" back into the cooking pot. Discard the spices in the sieve. Add the brined vegetables to the pot. Simmer gently, stirring frequently, for 10 minutes. Using a slotted spoon, transfer veggies from liquid to clean canning jars. Pour the liquid over the veggies and allow to stand at room temperature until cool. Cover tightly with canning jar lids and refrigerate up to 1 month.
Enjoy!
~Melissa
You may enjoy these related posts: