Print Friendly Version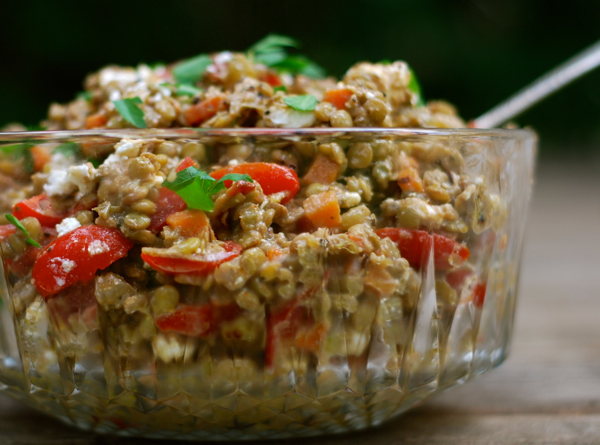 ~ lentil salad ~
"Let first the onion flourish there,

Rose among roots, the maiden-fair,

Wine-scented and poetic soul

Of the capacious salad bowl."

~Robert Louis Stevenson
This salad has it all! The earthy flavor of lentils and fresh herbs, the sweet crunch of carrots, the tangy bite of feta cheese and French vinaigrette, and the smoky aroma and crispiness of bacon. This recipe yields 8-10 servings and can easily be halved or doubled depending on how many will be enjoying it.
for the salad:
2 Tablespoons extra virgin olive oil
16. oz French green lentils, washed sorted drained
4 bay leaves
2 Tablespoons fresh thyme leaves
2 large carrots, cleaned, peeled and chopped into little chunks
2 stalks celery (plus green tops) chopped fine
1 small onion, chopped fine
2 to 3 large cloves fresh garlic, minced
30 grape tomatoes, quartered
sea salt and freshly ground pepper to taste
French vinaigrette (recipe follows)
arugula leaves
1/2 lb. to 1 lb. bacon, fried until crisp, drained, and chopped
2 Tablespoons bacon drippings
8 oz. feta cheese, crumbled
In a large stock pot, combine oil, lentils, bay leaves, thyme, carrot, celery, onion and garlic. Cook over medium heat, stirring often, until veggies are softened somewhat. Cover with water by one inch. Bring to a boil. Reduce heat to medium-low and simmer for 15 to 20 minutes or until lentils are tender but still firm (not crunchy.) Drain and discard bay leaves. Place lentils and veggies in a large bowl and allow to cool a bit before placing in the fridge to chill all the way.
Gently stir in tomatoes, salt, pepper, vinaigrette, reserved bacon drippings,  and all of the feta.
To plate: place a cup or so of the lentil salad on a bed of arugula. Garnish with crumbled bacon. Enjoy with crusty, warm, buttered baguette.
French vinaigrette:
1/3 cup red wine
1/3 cup balsamic vinegar
1 Tablespoon onion powder
1 teaspoon garlic powder
6 teaspoons Dijon mustard
2 teaspoons salt
2 teaspoons freshly ground black pepper
1 Tablespoon fresh, chopped basil
1 Tablespoon fresh, chopped oregano
1 teaspoon tarragon (fresh or dry)
1 cup extra virgin olive oil
Whisk all ingredients together. Taste to adjust the seasonings.
Enjoy!
~Melissa
You may enjoy these related posts: