Print Friendly Version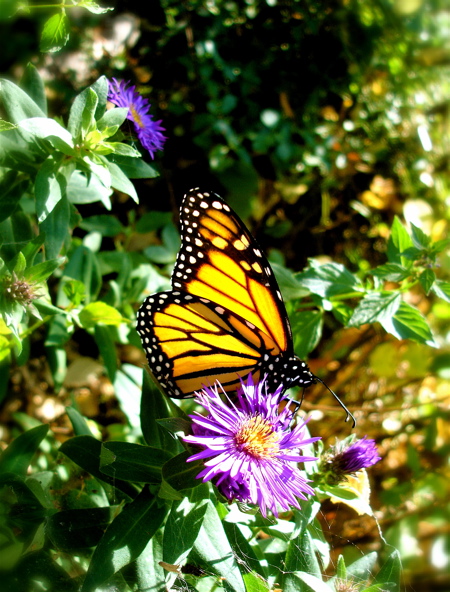 McSorley Monarch by Melissa Placzek
"Following all the rules leaves a completed checklist. Following your heart achieves a completed you." ~ Ray Davis
Well, it's the end of our "summer in January" here in Minnesota. We had a really good run though! To be able to walk uptown to get a coffee without  bundling up in multiple layers this time of year is really saying something. Alas, the snow has returned and now I feel like hibernating, making soup, baking bread and doing all of the other cozy things that make winter feel like winter. I have to admit the snow-free Christmas was a little strange.
Other than all of the writing I've been doing, I've also been knitting, crocheting, and recently started working on a quilt with my friend Clare. Our little "creativity nights" have given me a new dose of inspiration. I just love creating with other women. There is such a sweet spirit that accompanies the places women gather together to make art. I adore the idea of a bygone era when women would spend days cooking, quilting, sewing and just being together while drinking tea and doing that thing we all do so well…talking. Are you part of a creativity group?
Once I get more experienced at quilting I would love to try my hand at an art called Promise Stitching. I love how this craft is surrounded by secrets and mystery. There is something very seductive about it. I would have to travel to visit this lovely lady, as the craft is only passed down from woman to woman and can't be learned from a book.
Have I mentioned how much FUN I've been having with my new camera?  I'm learning SO much! I started a photography page on facebook and have been surprised and delighted by the response I've received! I love my facebook friends. Such an encouraging group of people. If you're reading this and you're one of them, THANK YOU for cheering me on as I embark on this new adventure. I never imagined that I would take to this particular craft, but I must admit, I'm hooked! There is rarely a time that I leave the house without taking my camera with me. When I do I feel a little lost, and regret all the missed photo ops I see throughout the day.
What new adventures have you begun this year?
~Melissa
You may enjoy these related posts: