Print Friendly Version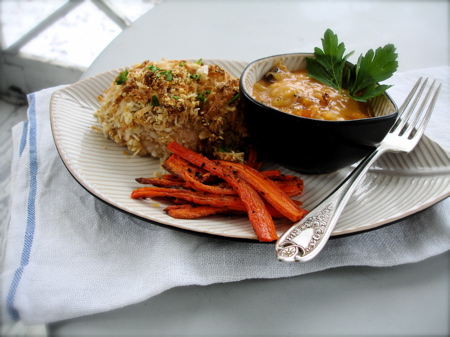 "Coconut Grove is a very small cove
separated from the sea by a shifting shoal
we didn't realize that we had arrived at high tide, high tide
Will we make it out alive?" ~Tennis
Do you LOVE coconut chicken? This is my favorite recipe for it, and it's easy peasy. I encourage you to listen to THIS awesome song by Tennis, one of my favorite bands while you cook your chicken. Maybe wear a hula skirt and mix up a mai tai. Who says cooking chicken can't be a little party? This song is from their FABULOUS album, Cape Dory. CAN'T. STOP. LISTENING! 🙂
Anyhoo, these chicken breasts are bathed in a combination of apricot preserves and mayonnaise and then coated with a unique, crunchy coconut breading. It's baked, not fried, and finally served with a yummy apricot pecan dipping sauce. I've made this recipe into chicken strips before, and served them with the apricot sauce, teriyaki sauce and a spicy peanut sauce as a lovely appetizer. The picture above shows a single breast served with oven roasted carrots that were combined with extra virgin olive oil, red pepper flakes, coarse sea salt and a little fresh grated ginger root before baking in a 375 oven for about 30 minutes. SO yummy!
for the chicken:
1 cup mayonnaise
1 cup apricot preserves
4 large chicken breasts
1 cup panko bread crumbs
1 cup flaked coconut
2 teaspoons onion powder
1 teaspoon garlic powder
Use fresh or thawed boneless, skinless chicken breasts. Blot dry. Combine mayo and apricot preserves. Remove 1 cup of the mixture and set aside (this will be used for your dipping sauce.) Generously coat the chicken pieces in the remaining mixture. Dredge the coated breasts in the coconut mixture and place in a large glass baking pan. Bake at 375 degrees F and bake 30 to 50 minutes, or until juices run clear when you cut into the chicken. Plate the chicken and serve with the crunchy apricot dipping sauce.
crunchy apricot dipping sauce:
 1 cup of combined mayo and preserves
1/3 cup chopped pecans, walnuts or almonds
1 Tablespoon Sriracha hot sauce
salt and pepper to taste
Place a little bit of dipping sauce in single serving ramekins or finger bowls and serve alongside the coconut chicken!
Enjoy!
~Melissa
You may enjoy these related posts: