Print Friendly Version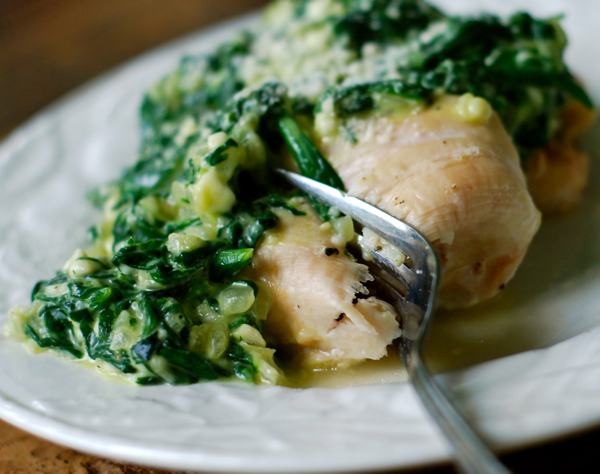 We love easy, delicious chicken recipes! This is wonderful with buttered whole grain toast points or warmed baguette. If you're looking for fast, easy and yummy, you've come to the right place.
4 boneless, skinless chicken breasts, grilled or baked until completely cooked
1/4 cup unsalted butter (we use Kerrygold, unsalted)
1 medium onion, chopped
1 large clove garlic, minced
1 (10 oz.) bag fresh spinach, chopped
sea salt and freshly ground black pepper
1/4 teaspoon nutmeg
1/2 cup cottage cheese
1/4 cup grated Parmesan cheese
In a medium saute pan, melt butter. Once hot, add onion and cook until soft. Add garlic and cook until golden and fragrant. Add spinach and wilt. Cook until warmed through. Add salt, pepper, nutmeg, cottage cheese and Parmesan. Mix well. Cook approximately 4 minutes or until melty and heated through. Serve over chicken breasts with extra Parmesan for sprinkling over.
Enjoy!
~Melissa
You may enjoy these related posts: