Print Friendly Version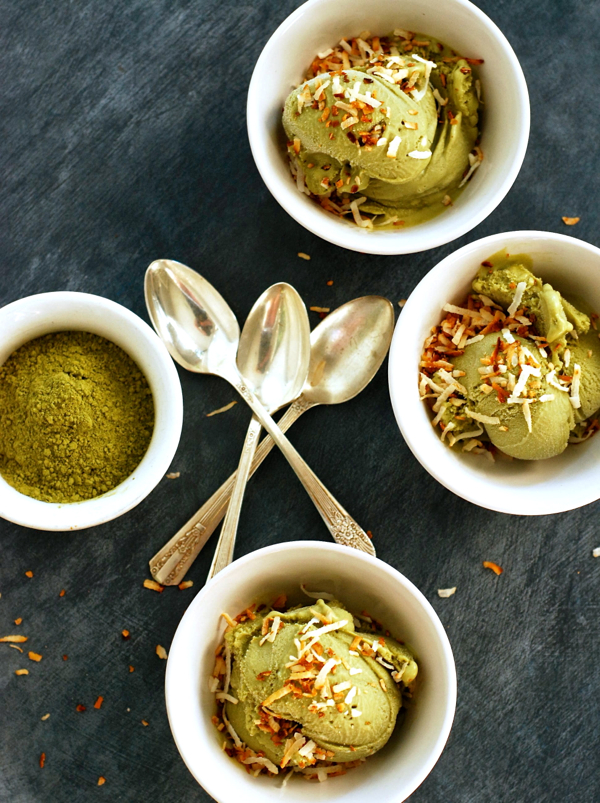 Whoo hoo! Friday's here! Gracie and I spent the day in Minneapolis yesterday. We had coffee at Caribou on Nicollet Mall, and lunch at Chipotle. Then we strolled up to Barnes & Noble and looked at magazines and books for awhile. All in all, a fabulous way to spend a hot summer day.
Today it's a little overcast and I think it's supposed to rain for awhile. We're going for a walk uptown Red Wing and getting coffees at the confectionery. We should probably bring umbrellas, just in case.
I've been having fun creating healthy (or I should say healthier) ice creams and frozen yogurts in my kitchen. Any time you can get away from frozen desserts with tons of high fructose corn syrup and/or sugar, you're doing a good thing. By making your own ice creams and frozen yogurts, you take back control of what's going into your body.
This particular ice cream doesn't really contain cream at all, but canned, full fat coconut milk. Coconut milk isn't sweetened, don't get it confused with creme coconut which has tons of sugar and weird ingredients in it. Use the full fat coconut milk and be amazed at the wonderful texture and flavor it lends to homemade ice cream. Oh! And this unusual, refreshing dessert also contains real green tea. If you don't like green tea, it's probably safe to say that you won't enjoy this. But, if you're like me and adore the stuff, get ready to swoon. This ice cream is loaded with antioxidants too! The best of all possible worlds.
The Tablespoon of vodka or sake in this recipe improves the texture of the dessert. If you don't want to add it, you don't have to. Don't be tempted to add more alcohol to this ice cream or it will never freeze.
14 oz. canned, chilled, full fat coconut milk
3/4 cup raw honey
1/2 teaspoon vanilla
2 Tablespoons fresh lemon juice
1 Tablespoon vodka or sake
2 Tablespoons powdered Matcha green tea (the best quality you can find)
toasted coconut for garnish
Place all ingredients, except for the toasted coconut, in a large mixing bowl and whisk until smooth. Freeze in the bowl of an electric ice cream maker according to manufacturer's instrudtions (I let it go for a half hour.) Transfer to a freezer safe container with a tight fitting lid and freeze for a few hours before scooping into pretty bowls and serving. Garnish with toasted coconut.
Enjoy!
~Melissa
You may enjoy these related posts: