Print Friendly Version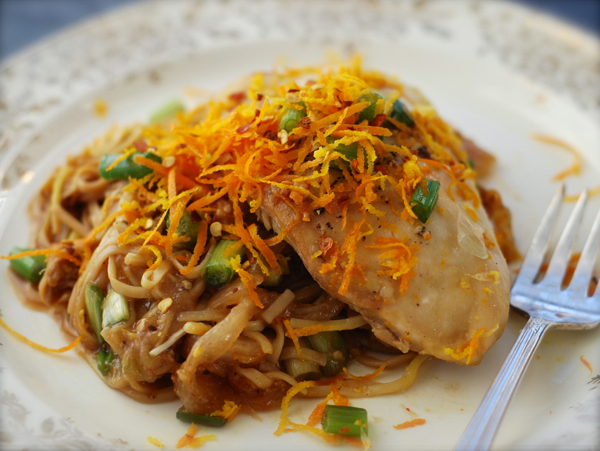 Time to get in the groove again. I had sooooo much fun just being lazy over vacation, but now it's time to focus. As I mentioned in my last few posts, I'm concentrating on health this year. I'll be cooking lots of good-for-you stuff, and adding those recipes to my repertoire. I'll try not to bore you with too many chicken and bean recipes, which seems to be my default when it comes to lean, high protein, meal preparation. Do you have any tricks for making healthy foods more interesting?
Here's a delicious way to prepare chicken. This time we made it with noodles, but it's just as good with brown rice.
~ preheat oven to 325 degrees F. ~
4 large, boneless, skinless chicken breasts
1 teaspoon salt
1 teaspoon freshly ground black pepper
2 teaspoons garlic powder
1 large onion, sliced
1 cup freshly squeezed orange juice
splash of white wine
1/3 cup honey
1 Tablespoon soy sauce
1 Tablespoon dark sesame oil
4 dried, red chilies, coarse crumbled
2 Tablespoons toasted sesame seeds
2 Tablespoons cornstarch
2 and 1/2 cups cooked brown rice or noodles
4 green onions, chopped
zest from one orange
Use fresh chicken breasts, or thaw frozen breasts completely and pat them dry. Slice the onion and place the slices on the bottom or a 9 x 13, glass baking dish. Lay the chicken pieces on the onions. Season with the salt, pepper and garlic powder. Whisk together the orange juice, wine, honey, soy sauce and sesame oil. Pour this mixture evenly over the chicken in the baking dish.  Evenly sprinkle the crumbled red chilies and sesame seeds over the top of everything. Bake chicken, uncovered, for about an hour, or until juices run completely clear and the meat is no longer pink. Remove chicken to a platter and cover with aluminum foil to keep the chicken hot while you make the sauce.
Place the sauce and onions, from the bottom of the baking dish, into a large saucepan. Bring to a gentle simmer over medium heat. Add cornstarch and whisk until sauce is slightly thickened. Serve the chicken over the rice (or noodles). Top with some of the sauce, and garnish with the chopped green onions and orange zest.
Enjoy!
~Melissa
You may enjoy these related posts: