Print Friendly Version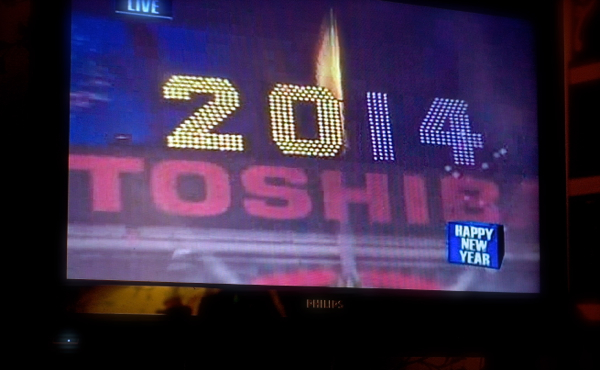 Hello, Lovelies. I'm amazed that we're saying hello to 2014. Remember back in this post when I talked about resolutions? Yeah, I still don't believe in them. I loved reading my friend Danielle's recent post on the same subject. Right on the money. I do believe in making goals and accomplishing things. I just don't like the pressure that making "resolutions" can add to my already mildly OCD nature. No thank you. One of my goals is to stop being a stressed out little monkey this year, and I think I'm already well on my way to making that goal come true. This year my word mantras are "health,"  "exercise," and "art." How's that for keeping it simple? What do you hope to accomplish this year?
Everyone went to bed early last night. Except for me. I sat up and watched the ball drop by myself. Which was fine. There was something meditative and very calming about experiencing this ritual on my own. December 31st is also my daughter, Andie's, birthday, so it's sort of a double whammy for me concerning reflection. I always think back to that day in the hospital, greeting my first little love. Every year I watch her grow into an awesome person and I am so proud of her. Now she's 23. I feel like I've been a mom for a long time. 🙂
Sorry for the randomness of this post. Every once in awhile I like to just write what I'm feeling, in whatever form it may take. I am truly excited about this new year. There is so much beauty to be thankful for every single day. I want to see and experience all of it.
I wish you all an amazing 2014.
Much love,
Melissa
You may enjoy these related posts: