Print Friendly Version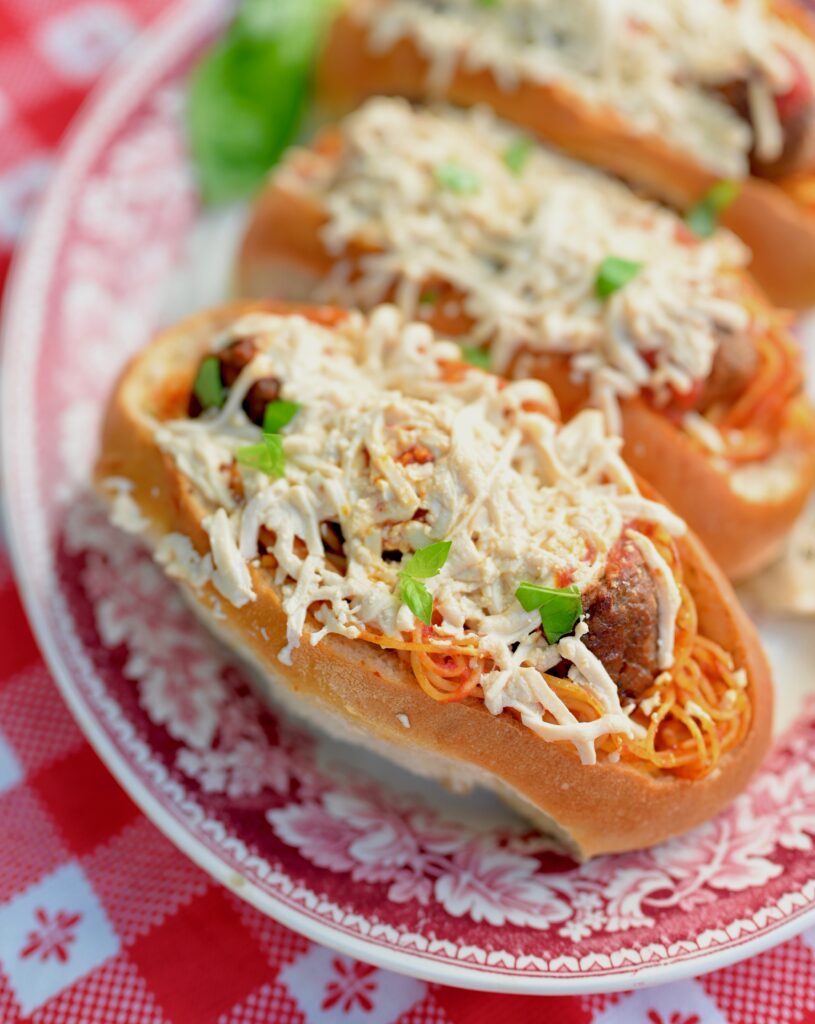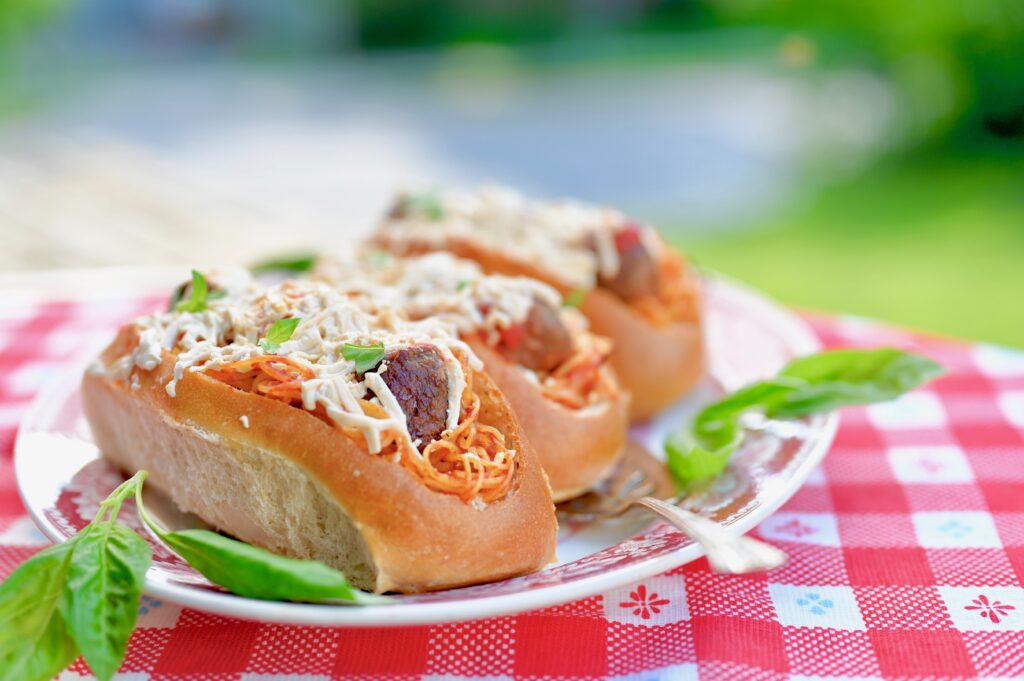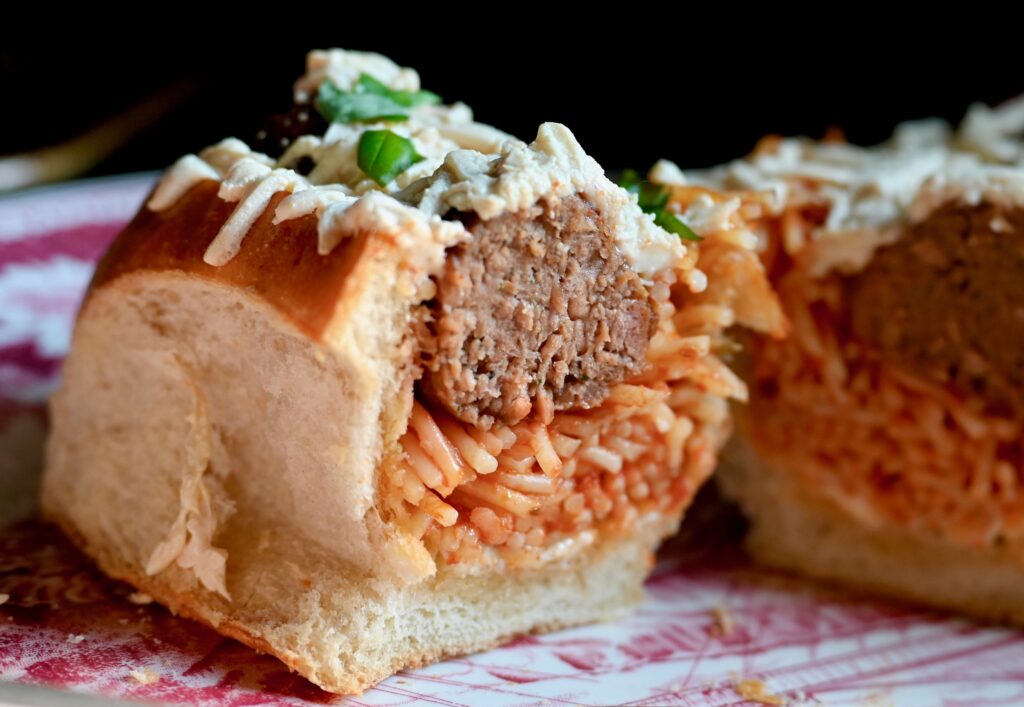 Do you like spaghetti with meatballs and garlic bread? Yes? Well, now you can enjoy the best of all of these in one, big, saucy, cheesy sandwich! I give you the Spaghetti Dinner Meatball Sub!
The basic gist to creating these delicious subs is to hollow out big sub rolls, brush them with garlic butter, and toast them up. Then you fill them with saucy spaghetti, add juicy meatballs (we used Beyond Beef meatballs,) and finally top everything with gobs of ooey gooey Mozzarella cheese (we used vegan, Daiya Mozzarella which melts beautifully!)
Make sure you use crusty rolls that will hold up well to the saucy spaghetti filling. No wimpy bread!
~ For 4 big Spaghetti Dinner Meatball Subs ~
4 big, crusty sub rolls
1/3 cup melted butter (we use organic Earth Balance)
2 large garlic cloves, minced
1 teaspoon onion powder
2 teaspoons dry oregano
4 cups cooked spaghetti noodles
1 cup marinara sauce (or more if you like)
2 Tablespoons fennel seeds (optional)
12 big meatballs, well browned (we used Beyond Beef prepared meatballs)
3 cups shredded Mozzarella cheese (we used vegan Daiya)
fresh basil
freshly grated Parmesan cheese (we use Violife) and red pepper flakes (optional)
Hollow out the sub rolls to create bread "boats." Leave a 1/2 inch thickness on bottom and a 1/2 inch thick "wall" of bread around the sides. Be VERY careful not to create holes in your sub roll boats.
Melt butter. Add the minced garlic, onion powder, and oregano. Brush insides of the bread boats liberally using the garlic butter mixture.
Place a little shredded cheese on the bottom of each boat. Place garlic bread boats on a baking sheet and toast for 5 minutes at 375 degrees F. Remove from oven, but keep the oven on.
Use leftover spaghetti noodles or cook the noodles according to the package directions for al dente pasta. Do not rinse noodles once they're done, but drain them well.
Place approximately 4 cups of the cooked pasta in a medium mixing bowl. Add the marinara and fennel seeds (if using.) Stir so all of the noodles are well coated with the sauce. Add more sauce if you wish.
Fill the garlic bread boats with the spaghetti. Gently pack it down. Leave just enough room to place 3 well-browned meatballs in each sub. Drizzle a little more sauce on meatballs. Line up the subs on a baking sheet and top liberally with the shredded cheese.
Place back in preheated, 375 degree F., oven for 15 to 20 minutes, or until cheese is all melted and the sub rolls are a light golden brown.
Remove from oven. Plate and garnish with fresh basil. Top with parmesan cheese and red pepper flakes if you wish.
Enjoy!
~Melissa
You may enjoy these related posts: