Print Friendly Version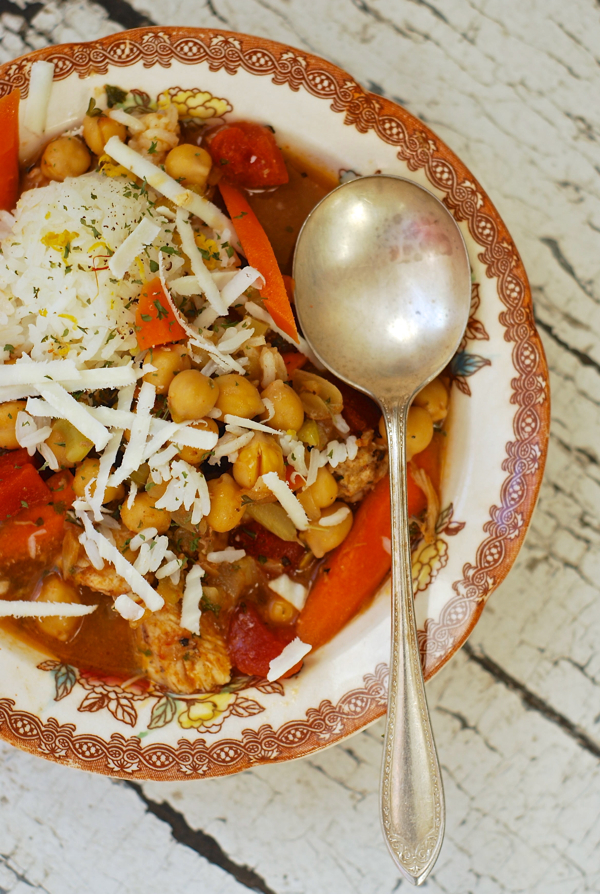 This is one of those recipes of mine that seems to change and evolve a bit every time I make it. Do you have recipes like that? I love the versatility of soups and stews. They can almost always be tweaked to suit personal taste and are totally resilient to substitutions if you don't happen to have an exact ingredient, or enough of something in your refrigerator or pantry.
Don't have a lot of time? This works in the Crock Pot as well. Just brown your veggies a bit first to release their flavors (not so they're mushy.) Add them, along with the other ingredients, to a Crock Pot set on low for 6 hours and go about your business. Make the rice separately as it will not hold up in the slow cooker. Don't add the Asiago and lemon zest until you plate it and serve it.
I happened to have a bunch of veggie scraps, a rotisserie chicken carcas, a few chicken wings, and some apple cores & peels in my freezer when I made my stew this time. The day before I made the stew, I just put all of this in my Crock Pot, added a few cups of water, some salt, pepper, smoked paprika, garlic powder, and chipotle powder. I covered it and let it cook on the "LOW" setting all day. Then I let it cool and put it in the fridge overnight. The next day, I skimmed most of the fat off  and reheated it. I strained out all the bones and squeezed the veggies/apple cores, and then discarded everything but the rich aromatic stock. I then transferred the stock to a big stock pot, added enough water to equal about 9 cups and brought it to a simmer. If you don't feel like going through the process of making your veggie/chicken stock from scratch, don't worry. You can certainly use a good quality, pre-made stock for this. I don't recommend just using bouillon though. I love using my leftover scraps to make stock. It tastes fantastic, and makes me feel resourceful.
9 cups homemade or other good quality chicken or vegetable stock (or a combination)
1 cup dry white wine or dry sherry (don't use "cooking" wine…too much salt!)
juice of one small lemon
1 to 2 Tablespoons Sriracha hot sauce (or your favorite)
3 or 4 cups fully cooked, chopped/shredded chicken
2 Tablespoons olive oil
3 cups yellow onion, chopped
1 cup each celery and bell pepper, chopped (or 2 cups of just one of these ingredients is fine)
4 cups thinly sliced carrot
1 (14 oz.) can fire roasted, petite diced tomatoes (including the juice)
2 (14 oz.) cans chick peas (drained and rinsed well)
2 Tablespoons creamy peanut butter (or other nut/seed butter)
3 bay leaves
1/2 cup fresh parsley (finely chopped) or 1/4 cup dried parsley
1 Tablespoon smoked paprika
1 Tablespoon chipotle powder
2 large cloves garlic, minced (or 1 teaspoon garlic powder)
1 teaspoon cumin
1 teaspoon sweet curry powder
1/4 teaspoon cinnamon
a pinch (about 1/4 teaspoon) saffron threads
sea salt and freshly ground black pepper, to taste
cooked rice (white, brown or wild)
shredded Asiago cheese
lemon zest
Saute the onion, bell pepper, celery and carrots in the olive oil until firm-tender and lightly browned.  Place in a large stock pot along with everything else (except the rice, Asiago and lemon zest.) Bring to a boil. Reduce heat to a low simmer, stir well and cover so pot lid is slightly askew. Allow stew to simmer and heat for 30 to 40 minutes, stirring occasionally. When it's hot, it's done. You can cook your rice while the stew heats up, or make it the day before if you're making your stock from scratch. I added a few saffron threads and butter to my rice while it cooked, which I think made it a perfect accompaniment to the stew. I made yummy Gypsy bread to go with this too (recipe coming soon!)
Enjoy!
~Melissa
You may enjoy these related posts: