Print Friendly Version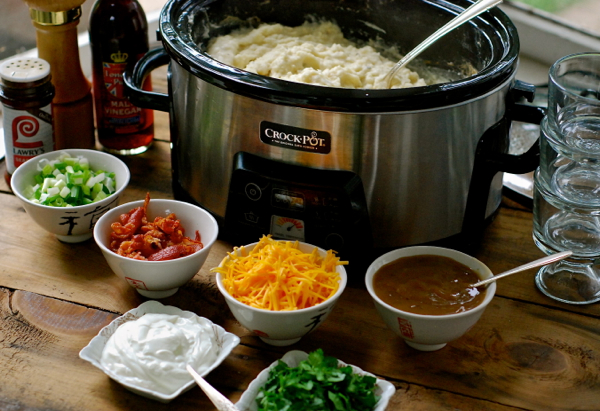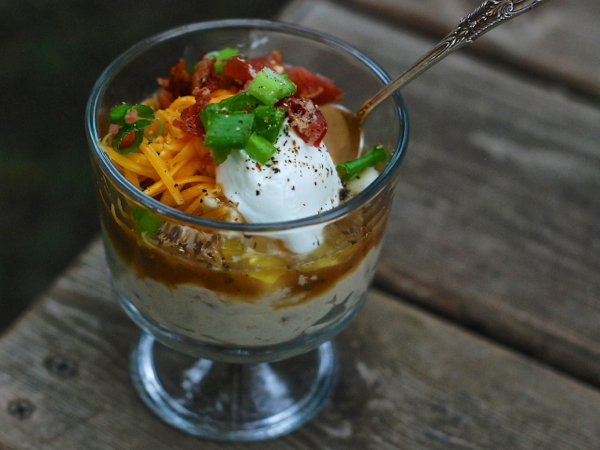 This is such a fun way to serve decadent, warm comfort food at a cool weather gathering in the autumn or winter. Guests can serve themselves and make their mashed potato "parfaits" any way they like. This time my toppings were pretty standard but you can get really creative with the toppings if you like. The possibilities are endless! If you'd like to make this a bit more fancy, offer white or black truffle oil, capers, smoked salmon, or caviar as topping choices and serve the mashed potatoes in martini glasses.
4 lb. russet potatoes, washed, peeled and quartered (make the pieces uniform in size.)
1 teaspoon garlic powder
1 teaspoon onion powder
1 teaspoon Lawry's seasoned salt
1 to 2 teaspoons freshly ground black pepper
1 cup water
4 Tablespoons butter, cut into little chunks
8 oz. chive & onion cream cheese
1/3 cup milk
Place potato pieces in slow cooker. Add garlic powder, onion powder, seasoned salt, pepper, water, and butter. Mix well to coat potatoes. Cover and cook on HIGH for 4 hours (or until potatoes are tender.) Once potatoes are tender, mash them well with a potato masher, right in the crock. Stir in the cream cheese until evenly blended. Stir in milk.  Serve or keep warm on the LOW setting for up to 2 hours. If you have a WARM setting you cold keep it on for 4 or more hours.
Topping suggestions:
~ gravy
~ fried bacon, crumbled
~ shredded sharp cheddar cheese
~ chopped green onions or fried onions
~ butter
~ sour cream or plain greek yogurt
~ ranch dressing
~ ketchup or BBQ sauce
~ malt vinegar
~ chopped fresh parsley or fresh thyme leaves
~ salt and pepper
Enjoy!
~Melissa
You may enjoy these related posts: