Print Friendly Version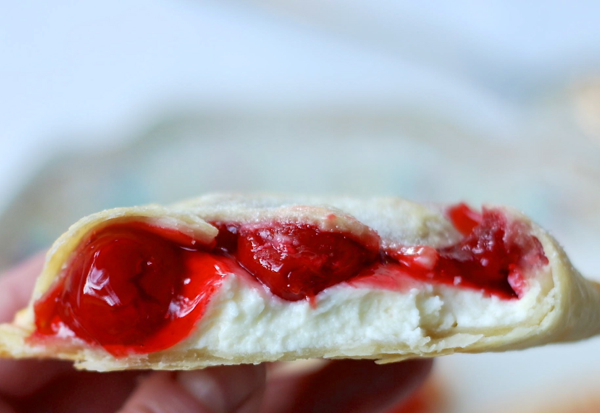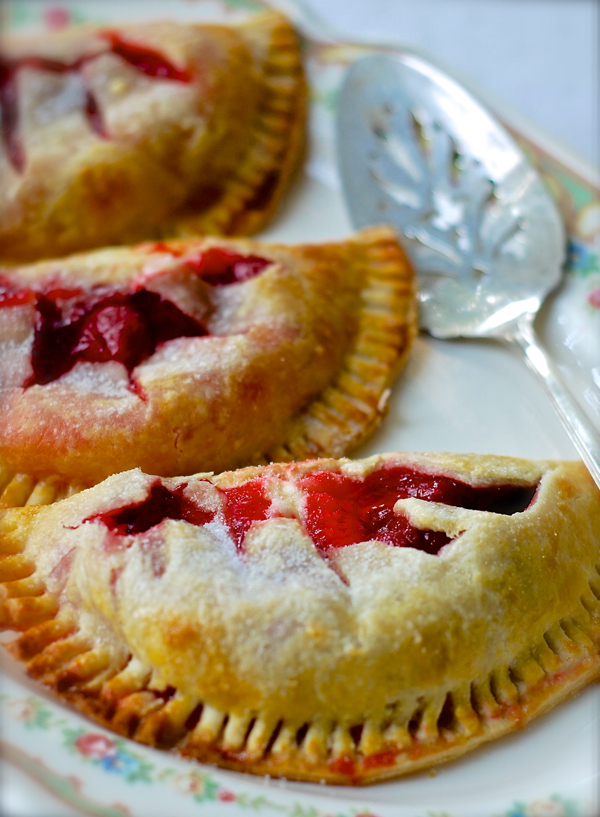 We love these little, portable "pocket" pies for picnics! Just put them in a container that seals well, and place the container in a cooler filled with ice. The sweetened "cheesecake" component of these yummy pies make them a good breakfast or brunch offering too. They sort of remind me of a cross between a fruit pie and cream cheese danish. I personally like them much better served cold.
for 8 pocket pies:
~ preheat oven to 400 degrees F. ~
2 refrigerated, roll-out, pie crusts (enough to make a pie with a top and bottom crust. I love this homemade recipe or Pillsbury brand.)
2 cups of your favorite homemade or canned cherry pie filling, room temperature (If you use canned, add 1/4 teaspoon pure almond extract and mix it up well.)
8 oz. cream cheese, room temperature (not whipped, reduced fat or Neufchatel)
3 Tablespoons sugar
1/4 teaspoon pure vanilla extract
1 to 2 Tablespoons whole milk
Mix the cream cheese, sugar, vanilla and 1 Tablespoon milk to together in the bowl of a food processor until smooth. Add a little more milk, if needed. You're going for a spreadable consistency, not runny.
If the pie crust dough you're using has been frozen, set it out on the counter and allow it to come to almost room temperature. If you're using pre-made, refrigerated pie crusts, let them sit on the counter for 10 to 15 minutes prior to rolling out on a floured surface. You want the pastry dough to be thin but not so thin that your pie filling boils over and makes the pastry crust burst while baking (see the second picture above? My dough was a bit too thin.) If they do burst, don't worry. They'll still taste great.
Using a teacup or coffee cup saucer, cut out rounds of dough using the saucer as a template and running a knife around it. Do this 8 times. You may have a bit of dough left over.
Place rounds on 2 baking sheets that have been lined with cooking parchment. Place approximately 1 heaping Tablespoon of the cream cheese mixture on one half of one of the dough rounds, not getting too close to the edge, but spreading it out a bit. Place 1 to 2 Tablespoons of the cherry pie filling over the cream cheese mixture. Wet all edges of the dough round. Carefully fold the dough over the filling, creating a half moon shape. Crimp edges of pocket pie using the tines of a fork. Make a few little slits on the top of the pie so hot air can escape. Repeat this 7 more times for a total of 8 pocket pies.
Bake pies on two separate baking sheets at 400 degrees F. in preheated oven for 12 to 16 minutes, or until hot all the way through and crusts are golden brown.
Allow to cool on baking sheets for a few minutes before removing to a serving platter. You can enjoy these warm or cold. Put whatever you don't eat in the fridge, in a covered container. They're wonderful reheated.
Enjoy!
~Melissa
You may enjoy these related posts: