Print Friendly Version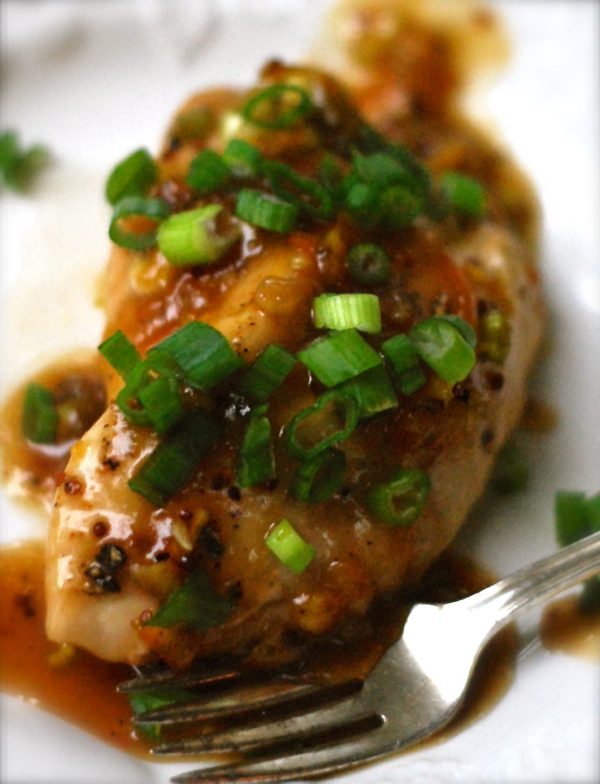 Here's a wonderful, easy dish you can prepare when you're in a hurry to get dinner on the table. I make a big pot of brown rice at the beginning of the week so we have an easy side that only takes a few minutes to warm up in the microwave. It's particularly wonderful with the orange marmalade sauce in this recipe.
Brown rice is so versatile. I use it for fried rice and eggs in the morning for a delicious, high protein breakfast. And… if you grill up extra meat you can use it, along with some brown rice and stir-fried veggies, to create yummy lunch bowls.
~ preheat oven to 350 degrees F. ~
serves 4
4 boneless, skinless chicken breasts
1 Tablespoon butter, melted
1 Tablespoon extra virgin olive oil
2 teaspoons grainy Dijon mustard
1 cup organic orange marmalade
2 Tablespoons lite soy sauce
1 Tablespoon balsamic vinegar
1/2 teaspoon freshly ground black pepper
6 green onions + green tops, chopped
1/2 teaspoon garlic powder
1/4 teaspoon chipotle powder
1 Tablespoon cornstarch
2 cups cooked brown rice
Place the chicken breasts in a baking pan. Mix up the rest of the ingredients, except for the cornstarch and rice, in a mixing bowl. Pour the sauce mixture over the chicken. Bake at 350 degrees F. for 25-35 minutes (or just until the chicken is completely done and juices run clear.)
Once chicken is done, remove it to a plate and cover it to keep it warm. Transfer the marmalade sauce to a small saucepan. Sprinkle the cornstarch into the liquid, and whisk constantly over medium heat until the sauce thickens.
Place 1/2 cup hot rice in each of 4 serving bowls. Top each with a chicken breast and some of the sauce. Garnish with a little extra green onion, if you wish.
Enjoy!
~Melissa
You may enjoy these related posts: