Print Friendly Version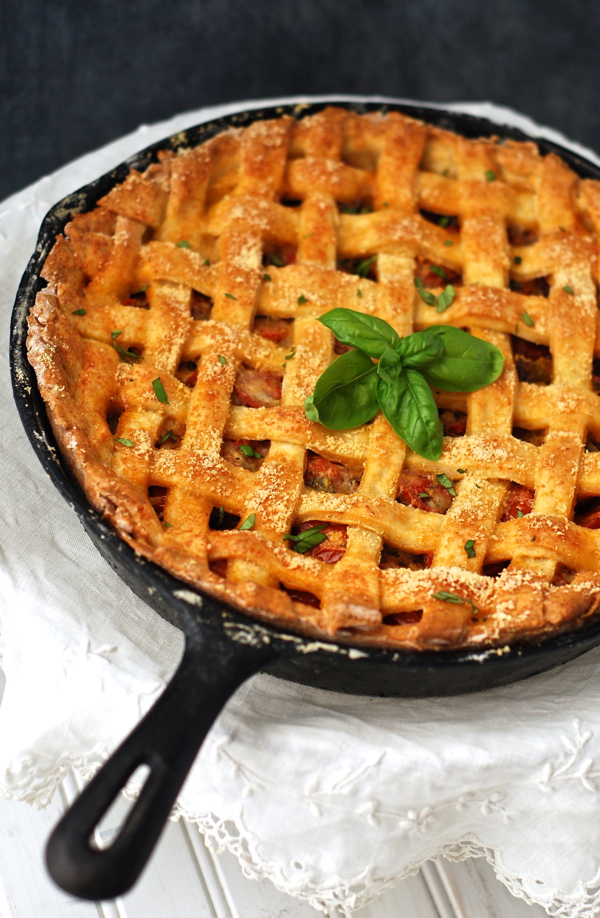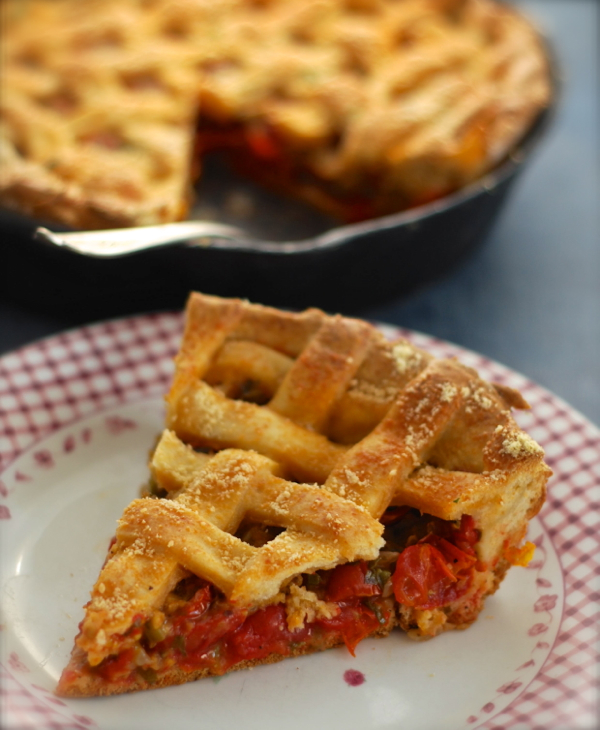 I woke up craving blueberry pancakes. REAL blueberry pancakes… the kind with fresh, big, juicy blueberries fried right into the batter. I've accidentally ordered pretend blueberry pancakes in a restaurant before. It happened while vacationing in a different state, and let me just tell you, when you don't specify before you order, they bring you plain buttermilk pancakes piled with blueberry pie filling and whipped cream. Nooooooooo!!!!! 🙂
Well, we didn't have blueberries in the house today so I had peanut butter on a bagel. Wah.
I usually don't blog on Saturdays, so this is weird for me. But, I did promise you the recipe for this savory pie. I was suppose to post it yesterday, but after my picnic with Nancy and hanging out with Jeff and Gracie in the evening, I didn't make it back to the computer.
This pie is so different and yummy. It's savory, spicy, a little sweet, and my favorite part is the wonderful cheddar cheese crust. I love to serve it with Amish Oven Fried Chicken, creamy cucumber salad, and slices of cheddar cheese or a little chevre.
Cheese Pastry:
2 and 1/2 cups self-rising flour
4 Tablespoons butter, cold
1/4 cup grated, sharp cheddar cheese
1/2 cup buttermilk
Place the flour, butter and grated cheese in the bowl of a food processor, and pulse until coarse crumbs form. Slowly add the buttermilk until the mixture forms a ball. Remove from food processor, place in a bowl, cover and refrigerate while you make the pie filling.
Tomato Pie Filling:
2 Tablespoons butter
1/2 sweet yellow onion, finely chopped (Vidalia and Maui are good)
1 stalk celery plus the green leaves, finely chopped
2 large garlic cloves, minced fine OR 2 teaspoons garlic powder
1 jalapeno OR serrano pepper, seeded and minced
3 cups baby pear tomatoes, cut in half
2 Tablespoons all-purpose flour
2 Tablespoons finely chopped, fresh basil
1 Tablespoon sugar
1 teaspoon finely ground, fresh black pepper
1 teaspoon sea salt
1/4 teaspoon ground ginger
1/4 teaspoon cumin
1/4 teaspoon cinnamon
1/8 teaspoon ground cloves
Heat butter in a skillet over medium heat. Add the onion, celery, garlic and jalapeno. Cook until veggies are tender. Add tomatoes and all purpose flour and toss to coat. Add basil, sugar, pepper, salt, ginger, cumin, cinnamon and cloves. Stir well and remove from heat. Allow to cool completely.
To assemble:
Oil a 10 inch cast iron skillet generously with oil. Remove dough from refrigerator. Cut it in half. Place one of the halves back in the refrigerator.
Lightly flour a pastry board, or counter top. Handling the dough as little as possible, roll it into a circle about 1/4-inch thick, and press it into the skillet. Don't stretch the dough. Fill the crust with the tomato mixture.
Take the second ball out of the refrigerator, and roll it into a circle about 1/4-inch thick. Cut it into strips and weave them over the top of the pie in the basket weave/lattice design. Carefully trim the edges of the crust.
Place the pie in the refrigerator, and preheat oven to 400 degrees F.
Remove pie from refrigerator when oven is hot, and brush with:
1 egg white mixed with 2 Tablespoons water
sprinkle:
3 Tablespoons Parmesan cheese over top
Place in oven and bake for 10 minutes. Reduce heat to 375 degrees F, and bake an additional 35-45 minutes. Cover loosely with foil if crust starts to brown too quickly. Bake the pie until it starts to bubble. Serve warm or at room temperature.
Enjoy!
~Melissa
You may enjoy these related posts: