Print Friendly Version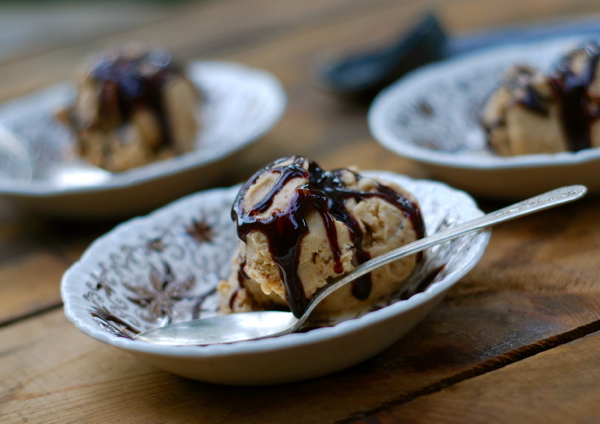 I think this might be my favorite ice cream recipe yet. Have I said that before? I probably have, but this time I'm serious! 😉 It's elegant, mostly healthy and delicious! Feel free to add a little raw honey or pure maple syrup to your ice cream mixture if it doesn't seem sweet enough to you.
for the ice cream:
1 (13.5 oz.) can full fat coconut milk
1 (11 oz.) jar fig butter or jam (I used Trader Joe's)
1/4 cup plain greek yogurt
1 Tablespoon raw honey (if needed, optional)
1/2 teaspoon cinnamon
1/4 teaspoon nutmeg
1/4 teaspoon ground ginger
1/8 teaspoon finely ground black pepper
pinch of ground cloves
Mix all ice cream ingredients in a large mixing bowl and stir until smooth with a wire whisk. Freeze in an electric ice cream maker according to manufacturer's directions for your machine (I let mine go for 20 minutes.) Once frozen, transfer ice cream to a freezer-safe container with a tight fitting lid and place in freezer until ready to serve.
for the cabernet chocolate sauce:
1/3 cup of your favorite chocolate sauce
2 Tablespoons good quality cabernet wine
Mix until well blended. Drizzle over spiced fig ice cream. Store in lidded jar in fridge.
Enjoy!
~Melissa
You may enjoy these related posts: