Print Friendly Version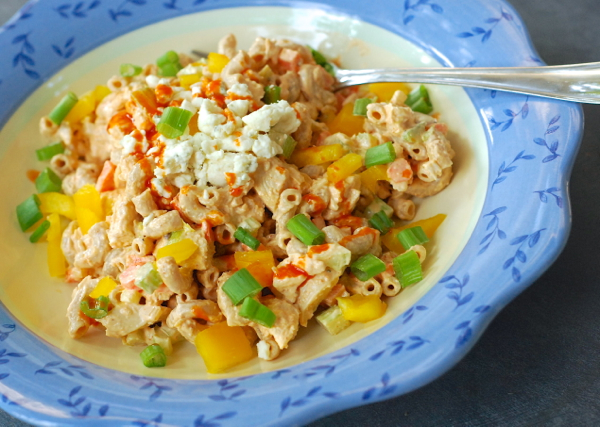 It's steamy hot outside today and according to the forecast it's going to be like this for the next week. Time to pack the cooler and picnic basket and head to the beach! Whenever we go I like to bring an assortment of salads in jars, and a macaroni salad of some type is always in the lineup.
Here's a new one I created that was inspired by the awesome buffalo chicken wing. Feel free to use any cooked, chilled chicken that you like. We happened to have grilled chicken breasts from the night before, so I chopped those up and tossed them into the mix. I've used fried chicken, rotisserie chicken from the deli, chicken strips and even fast food chicken nuggets in this before, and never had any complaints.
for the salad:
1 (13.25 oz.) box of your favorite elbow macaroni (I used whole wheat)
3/4 cup finely chopped onion, any type
2 and 1/4 cups chopped celery
1 cup chopped carrot
4 to 5 cups cooked chicken, chopped and chilled completely
Cook macaroni according to package directions for slightly firm (al dente) pasta. Once cooked, drain well and rinse with cold water to chill and stop cooking process. Place well drained pasta in a large mixing bowl along with all of the other salad ingredients. Mix well. Set aside.
for the dressing:
1 and 1/3 cups real mayonnaise
1/3 cup chunky blue cheese dressing
1/3 cup Frank's Buffalo Wing Sauce
1 Tablespoon yellow mustard
1 Tablespoon sugar
1 teaspoon onion powder
1 teaspoon garlic powder
cayenne pepper, to taste
black pepper, to taste
Place all dressing ingredients in a medium mixing bowl and mix well using a wire whisk, until smooth. Pour dressing over salad ingredients and gently fold in to combine.
Plate and top each serving with:
crumbled blue cheese
green onion tops, chopped
chopped bell pepper (I used yellow)
a drizzle of Frank's Buffalo Wing Sauce
Enjoy!
~Melissa
You may enjoy these related posts: