Print Friendly Version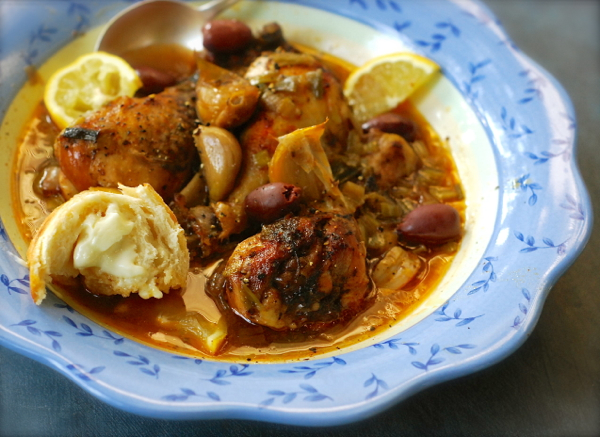 Chicken with 40 Cloves of Garlic is a classic, French bistro recipe. It's really a fancy, chicken stew. I've made this dish several times the traditional way, and this time I decided to simplify it for the slow cooker. Guess what? It's just as good as when I make it in the oven!
Don't let the garlic content in this recipe scare you. The fresh garlic cloves mellow as the chicken and broth slowly simmer, and they're wonderful spread on warm, buttery, crusty baguette!
You can skip the step where you brown the meat if you're in a hurry, but it adds a lot of flavor to the dish if you do it.
12 pieces fresh bone-in, skin-on dark meat chicken (I used drumsticks and thighs)
3 Tablespoons unsalted butter
sea salt and freshly ground black pepper
2 and 1/2 cups chicken stock (low sodium)
1/2 cup dry white or red wine
1/4 cup sweet sherry, cognac OR brown sugar
2 leeks, washed (white and tender green parts only) OR 1 bunch green onions + tops, chopped
2 Tablespoons extra virgin olive oil
1 Tablespoon fresh thyme leaves
1 Tablespoon smoked paprika
1/4 teaspoon freshly grated nutmeg
3 large heads fresh garlic, separated into 40 cloves (don't peel individual cloves)
2/3 cup kalamata olives, pitted
fresh, toasted baguette
fresh lemon wedges
Heat butter in a heavy, large skillet. Once melted and hot, add chicken, skin side down and cook until golden. Flip and repeat. (Approximately 2 to 3 minutes on each side.) Liberally sprinkle chicken with sea salt and freshly ground black pepper.
In a separate skillet, saute the leeks/onions in the olive oil.
Transfer browned meat to slow cooker. Top with: stock, wine, sherry, thyme, paprika and nutmeg. Tuck individual, unpeeled garlic cloves among the pieces of chicken. Top with the sauteed leeks. Cover slow cooker and cook on low heat for 4 to 5 hours or on high heat for 2 and 1/2 hours. The dish is done when the chicken is completely cooked through and the garlic cloves are very soft. Remove garlic cloves from skins and discard skins. Serve stew in large shallow bowls with plenty of warm, buttered baguette for dipping in the broth and for spreading the garlic cloves on. Serve with plenty of fresh lemon wedges for squeezing over the dish and a scattering of kalamata olives too.
Enjoy!
~Melissa
You may enjoy these related posts: