Print Friendly Version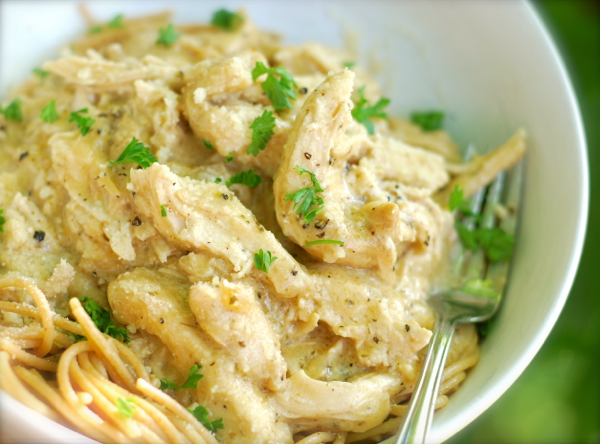 OH. MY. YUM!!! Are you ready for this? It's seriously the creamiest and the best Crock Pot Chicken Alfredo ever! It's amazing, and easy to prepare. Wonderful for a cozy, casual, weeknight dinner, and fancy enough for company! We like to serve this delicious alfredo over spaghetti, linguine, or fettuccine. It's awesome with garlic bread and a simple, tossed salad.
serves 6 to 8 people
6 large boneless, skinless chicken breasts
16 oz. Italian dressing (homemade or bottled, don't use lite)
1/4 cup chopped onion
2 Tablespoons freshly minced garlic cloves
1/4 cup lite soy sauce
2 Tablespoons extra virgin olive oil
2 heaping Tablespoons dried oregano
1 Tablespoon onion powder
2 Tablespoons white wine vinegar or red wine vinegar
1/4 cup cornstarch
1/4 cup cold water
1/2 cup grated or powdered Parmesan cheese + more for topping
1/2 cup heavy whipping cream
Place fresh or completely thawed chicken breasts in a large, heavy duty Ziploc bag. Pour all of the dressing, onion, garlic, soy sauce, olive oil, oregano, onion powder, and vinegar into the Ziploc with the chicken. Remove as much air from the bag as possible and seal tightly. Moosh the ingredients around the chicken so all pieces are well coated and immersed. Place bag in a bowl and refrigerate overnight.
Four hours before you want to eat, place the entire contents of the Ziploc in the crock of a 7 to 8 quart slow cooker. Cover and cook on HIGH for 3 and 1/2 to 4 hours, or just until chicken is completely cooked through and shreddable. Don't overcook or your chicken will be dry. When done, remove the chicken from the pot and cover it to keep it warm.
Mix the cornstarch and water in a small bowl. Add this mixture to the juices in the crock pot. Whisk until smooth and juices begin to thicken. Sauce should look like a thick gravy at this point. Once smooth, whisk in the Parmesan cheese and cream. Turn slow cooker to WARM setting.
Shred/chop chicken and return it to the sauce in the Crock Pot. Mix well. Keep covered while you make your pasta.
Serve chicken and sauce over pasta. Top with more Parmesan, freshly ground black pepper, and a little freshly chopped parsley.
Enjoy!
~Melissa
You may enjoy these related posts: