Print Friendly Version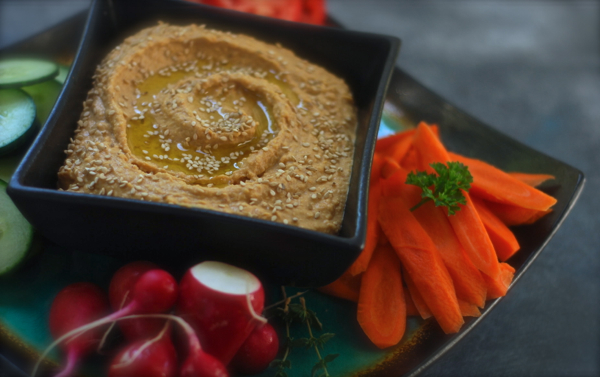 Hi Lovelies…. It's been a long day and I'm headed to bed. Before I  drift off to dream land, I thought I'd post this easy, delicious, Asian-inspired hummus recipe.
I thought of adding peanut butter when I realized we were out of tahini (sesame butter). That didn't sound like too much of a stretch, and actually, I was a little surprised I hadn't thought of substituting peanut butter for tahini before. As I added the peanut butter I thought…hey! how about if I make this with some of the same ingredients that I use in my thai peanut sauce? This lovely flavor combination is amazing on Thai pizza, as a marinade for grilled chicken, tossed with noodles, in soup, mixed into chicken salad, in salad dressing, and as a dip for fondue. Why not hummus?
This is some of the best hummus I've ever made. Jeff said it's definitely his new favorite. We dipped loads of fresh crudite and little rice crackers in ours. This would be perfect for a party appetizer, as a first course to a Thai meal, or served in place of salad for your next at home dinner.
1 (15.5 oz) can garbanzo beans (chickpeas) drained and rinsed well
2 Tablespoons plain greek yogurt (we like FAGE)
1/4 cup creamy, organic peanut butter
1 Tablespoon dark sesame oil
1 Tablespoon soy sauce
2 large garlic cloves, minced
1 teaspoon onion powder
1/2 teaspoon ginger powder
2 teaspoons barbecue sauce
2 teaspoons Sriracha hot sauce (regular or hot chili-garlic)
1 Tablespoon extra virgin olive oil
1/4 cup warm water
Place all ingredients in the bowl of a food processor and pulse until very smooth. Transfer to a bowl, make a deep swirl in the top of the hummus and pour some extra olive oil on top so it goes into the swirl. Garnish with toasted sesame seeds.
Enjoy!
~Melissa
You may enjoy these related posts: