Print Friendly Version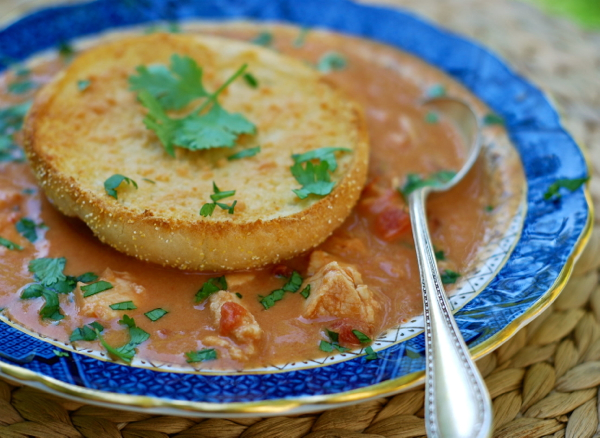 This is a favorite meal in our house. When the pot of soup in the fridge starts getting low, Jeff has been known to start stockpiling it in the back of the freezer with his name written on the freezer bags in bold letters. 😉
~African Peanut Soup~
In the bowl of a food processor, combine:
1 oz. fresh ginger root, chopped
2 large cloves garlic
3 and 1/4 cup canned organic, diced tomatoes, including juice
1 small onion, peeled and roughly chopped
Puree until smooth. Place in a large stock pot.
Add the following ingredients to the pot:
2 cups organic peanut butter (we use Smucker's)
4 and 1/2 cups organic chicken stock, canned or homemade
1 teaspoon cayenne pepper (or more if you like really spicy)
Lawry's seasoned salt (to taste…be careful not to over-salt)
Heat through.
Add:
2 cups canned organic, diced fire-roasted tomatoes (including juice)
3 cups cooked chicken or turkey, cubed
2 Tablespoons extra virgin olive oil
Heat through.
Make a roux:
In a small saucepan, combine 1/4 cup melted butter OR olive oil and 1/4 cup flour. Cook over medium heat, stirring constantly until the roux is a golden brown color. Add a little more butter if the roux becomes too thick before the flour browns.
Whisk warm roux into the soup. Simmer gently to thicken. Thin with more chicken broth until soup reaches desired consistency.
Serve hot and garnish with peanuts, chopped cilantro, freshly grated Parmesan, Sriracha and  Parmesan croutons.
Parmesan Croutons:
Cut out bread rounds with a biscuit cutter OR use leftover hamburger bun halves. Spread each round with butter or sprinkle with olive oil.Sprinkle Parmesan cheese, garlic powder and onion powder over the top of each round. Place on a cookie sheet, in one layer, and bake at 425 for 5 to 10 minutes until golden brown and a little crispy. Watch closely so they don't burn. Allow to cool until they reach room temperature. Store in an air tight container. Serve on soups and salad.
Enjoy!
~Melissa
You may enjoy these related posts: