Print Friendly Version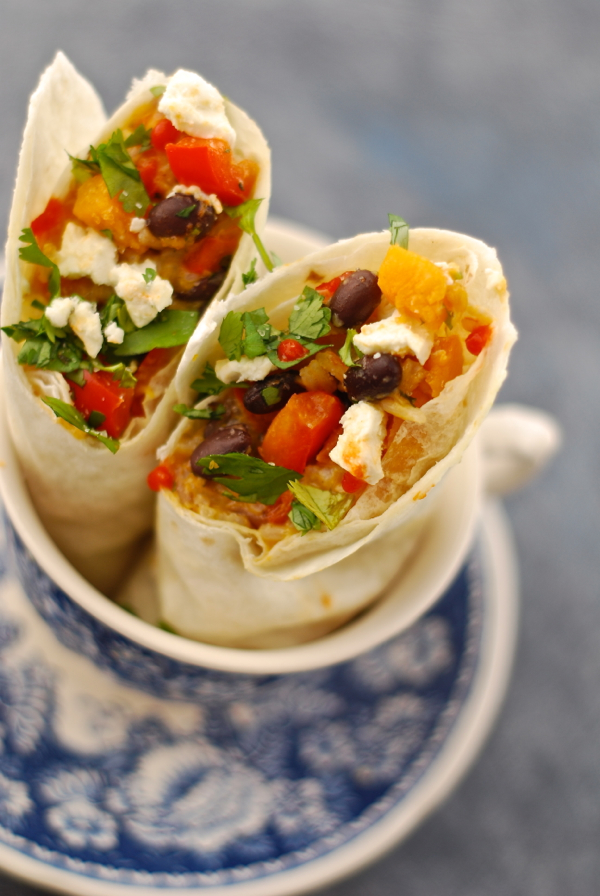 Hello, and happy Friday. I've been playing with new recipes in my kitchen, and came up with this delicious vegetarian wrap for our lunch today. SO darn tasty, and so good for you!
3 Tablespoons extra virgin olive oil
1 cup onion, chopped fine
4 large cloves garlic, minced
1 Tablespoon fresh parsley, chopped fine
1 teaspoon cumin
1 teaspoon sweet curry powder
1 teaspoon smoked paprika
1 teaspoon ginger powder
1 large red bell pepper, coarse chopped
1 can black beans (unseasoned) rinsed and drained well
1 and 1/2 cups cooked brown or white rice
2 cups cooked butternut squash cubes
1 cup sharp cheddar cheese, shredded
salt and pepper to taste
tortillas or sandwich wraps, warmed
toppings:
sour cream or greek yogurt
corn salsa
avocado chunks or guacamole
Sriracha hot sauce (or your favorite)
fresh baby spinach leaves
chopped tomato
feta cheese chunks
fresh, chopped cilantro
In a large, deep skillet or Dutch oven, heat the olive oil. Add the onion. Saute for 5 minutes. Add garlic. Cook an additional minute. Turn down flame to low. Add the parsley, cumin, curry, paprika, and ginger and red bell pepper. Cook for five minutes before adding the black beans, rice squash and cheese. Cook just until heated through and cheese is melty. Adjust seasonings and add salt and pepper to taste.
To assemble: Place about 3/4 cup of the squash/bean filling down the center of a tortilla or wrap. Add all of your favorite toppings. Wrap up tight. Cut in half and secure each side of the wrap with a wooden skewer or place them in a large coffee cup, teacup or lowball glass to keep them from unwrapping before they are served.
Enjoy!
~Melissa
You may enjoy these related posts: