Print Friendly Version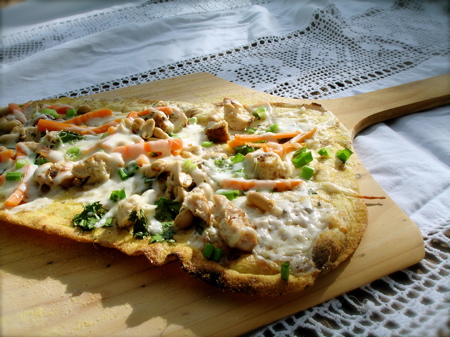 photographs by Melissa Placzek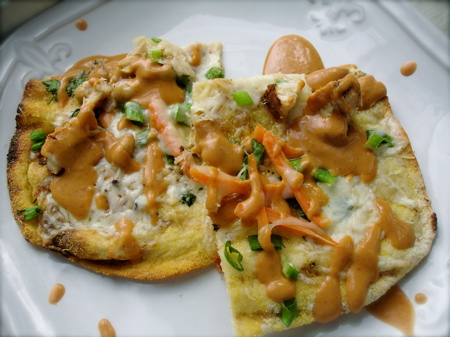 ~ grilled thai chicken pizza with spicy peanut sauce~
makes four 10 inch pizzas

So far this is my favorite gourmet pizza that we've made on the grill. The Margherita pizza is my second favorite (fresh romas, mozzarella, and basil) and the purist's pepperoni pizza is always good…but this pizza is something special.
If you'd like to try grilling pizza, just follow the directions in THIS POST to get started.
If you'd like to make this pizza in particular, you'll need:
(divide ingredients among 4 pizzas…)
4 homemade pizza crusts
12 oz fresh or grated mozzarella cheese
8 scallions with green tops, chopped
1 cup julienne carrots
1 cup fresh cilantro, chopped
2 large boneless, skinless chicken breasts, cooked & chopped
1 cup mung bean sprouts (optional)
~white pizza sauce~
(double this recipe if needed)
3 Tablespoons extra virgin olive oil
2 cloves garlic, minced
1/4 cup grated fresh Romano or Parmesan cheese
1/4 cup white wine
When your crust is ready, spread some white sauce over the top and working quickly, sprinkle on the toppings. Cover grill and cook for about 3 minutes. Remove pizza to a cutting board, slice, and then top with the spicy peanut sauce.
~spicy peanut sauce~
(enough for 4 pizzas or more…)
1/2 cup peanut butter
1/4 cup bbq sauce
3 Tablespoons soy sauce
2 Tablespoons real mayonnaise
3 teaspoons dark sesame oil
3 teaspoons Sriracha hot sauce (or more)
1 teaspoon garlic powder
1 teaspoon onion powder
1/2 teaspoon ginger
Using a wire whisk, mix all peanut sauce ingredients until smooth. Thin to desired consistency with as much low-sodium chicken broth as necessary. Start with 1/4 cup and go from there.
Enjoy!
~Melissa
You may enjoy these related posts: