Print Friendly Version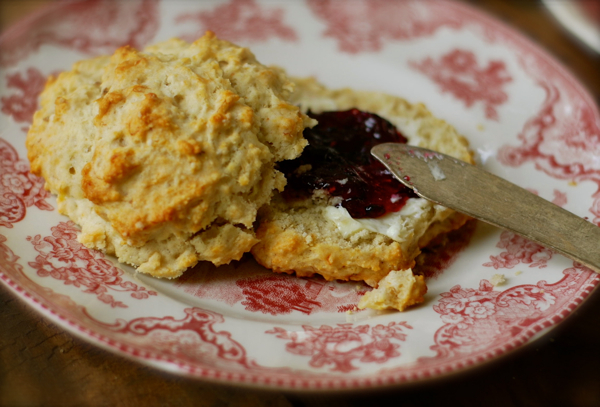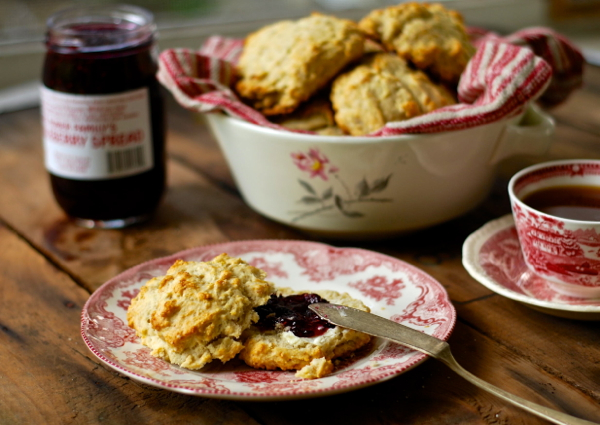 While perusing the shelves of a local thrift store, I found another pile of cool vintage cookbooks that I just had to take home with me. I really don't need more cookbooks. They're piled all over my study and are migrating to tables in my dining room and living room too. I just thinned out my collection this past spring and now I think I might have more than I started with. Unbelievable.
How am I suppose to resist tiles like this one though?
Seriously.
June Carter Cash's cookbook. How do you NOT take that home? 🙂
And the recipes are so cool. I have a dozen pages marked already. I was immediately taken in by the recipe for banana biscuits. They sounded so interesting, and I'm always looking for new ways to use ripe bananas.
These biscuits are some of the best I've ever made. Their slight sweetness makes them taste a lot like drop scones, so of course they're good with butter, jam, lemon curd and Devonshire cream. They're the perfect tea time treat. They were also fantastic with soup. They're very easy to make too!
I can't wait for you to try these. Ready?
~ preheat oven to 400 degrees F. ~
2 cups all purpose flour
1 Tablespoon sugar
2 teaspoons baking powder
1/2 teaspoon baking soda
3/4 teaspoon to 1 teaspoon salt
1/2 cup (1 stick) butter
3/4 cup cold, whole milk
1/2 cup (1 large) mashed, ripe banana
Mix together the flour, sugar, baking powder, baking soda and salt. Cut in butter until the mixture is crumbly. Make a well in the center of the dry ingredients.
Pour the milk and banana into the well. Stir until the dry ingredients are moistened and a soft dough forms. Drop the dough by spoonfuls onto a greased cookie sheet. Bake for 15 to 20 minutes or until golden brown and set all the way through.
The original recipe says it makes 12 to 15 biscuits, but I made 8 big ones.
Enjoy!
~Melissa
You may enjoy these related posts: